Jaguar Explorer - Guyana Adventure Fishing Vacations
Destination
Upper reaches of the Essequibo River
Season
mid-September to mid-April
Trip Type
Jungle Fishing Lodge and Camp in virgin rainforest
Species
Arapaima, two species of Peacock Bass, Bicuda, Hymara / Wolf Fish, Payara , big Black Piranha, Pescada / Cobi, Couti, huge Red Pacu and Silver Pacu, MONSTER Lau/ Piraiba Cats, Redtail Cats, Tiger / Shovel nosed Cats, Jandia Cats & many more species
Description
Jungle Adventure Fishing Lodge and camp trip - in search of River Monsters!
Cost
$4250 per angler (*new costs for season 2022/2023 mid-Sept to mid-April)
Duration
11 Day Trip with 7 Days' Fishing, 8 nights at Lodge/camp, 2 nights hotel
View The Jaguar Explorer Video
Amazon-Angler hosts groups of adventure-seeking anglers deep into un-spoilt rainforest on the Upper Essequibo River, in beautiful Guyana, aka 'The Land of Many Waters' .......
With over 80 miles of river to explore, this wild watershed in the Upper reaches of the Essequibo River has areas that have rarely, if ever, seen a rod or line. This stunning river runs through 100% virgin rainforest, cascading over huge rocks and boulders, creating deep pools and runs for Giant Cats and many other predatory species of fish to be caught on baits, lures and flies.
Our season runs from mid September to mid April. It is typically warm with temperature over 70º F at night and 80-90º F during the day, but it feels cooler most of the time due to plenty of breeze.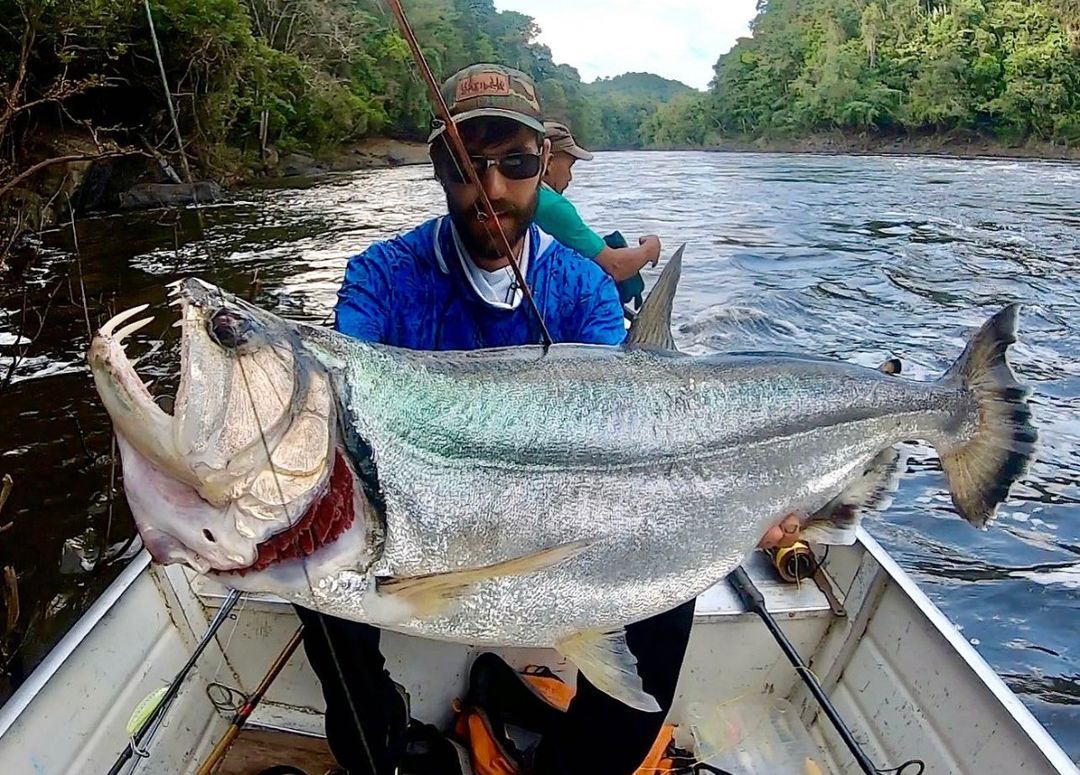 PREDATORS GALORE… There is such a diversity of predatory species to be caught in these rivers. With lures, flies, jigs, spoons, cut baits and other baits, dozens of different fish will keep the avid angler busy the whole trip. Our top species count to date is 47!
Hard-fighting 'Yellow' and 'Lake' Peacock Bass are two of the toughest and meanest Cichla species found in the Amazon Rainforest. These amazing predators can be caught on medium-sized walk-the-dog lures like spooks and skitter walks, small poppers, propbaits and on jigs, flies and minnow baits. They will smash topwater lures with abandon and there is nothing like the strike of a Peacock exploding on a lure worked across the surface. The bigger 'Yellows' can reach over 17lbs.
The slash-and-grab Payara/Vampire Fish and the Pike-like Bicuda visibly chase surface lures, minnowbaits, jigs and flies in the faster water. They are often seen crashing on baitfish on the surface. Payara will take cutbait/strips too.
Arowana/Monkey Fish grow huge here and also make a regular appearance. They will annihilate topwater lures, minnowbaits, jigs and flies. Giant Black Piranhas and Coby/Pescada can also be caught using cutbait, or small lures, spoons and deep-jigging lures in the deeper pools and runs.
MONSTER ARAPAIMAS AND CATFISH… We really do have some RIVER MONSTERS here, with massive Arapaima gigas and also huge Cats, from the unusual up to big bruising bullies. All can be caught on cutbait, livebait or whole dead fish.
Arapaimas are old, ancient beasts that are very prehistoric-looking, with armoured-plating over their entire bodies, yet they can be so delicate after being landed. They live in quiet backwater and bays, usually in low oxygenated water and grow to over 500lbs and 4m in length! We only use circle hooks for these Giants to avoid any belly-hooked fish. Great care is needed to revive these Leviathans before returning them to the lagoon.
The two species of Surubim or Shovel-nosed Tiger Cats here are both fast, sleek and strike hard. These hieroglyphically-marked predators are also caught on lures. Growing to over 50lbs, they are powerful fish to catch.  The Leopard or Jundia Cat is a dynamite of a fish for its size. Averaging 15lbs, they max out at about 25lbs and are one of the tastiest fish in the Amazon.
The express train Banana Fish or Redtail Cats must be rated as the hardestfighting Cats in the whole Amazon for their size. An 80lb Redtail will take you all over the river and strip line in reel-smoking, screaming runs.  Jau Cats are the Rottweillers of the river and dwell in the rocks and fast water and will take you deep in their caves! Gentle persuasion followed by brute force is needed to land these giants. THE King of all our Cats, the Giant Freshwater Shark/Lau-lau /Piraiba. This leviathan grows to over 400lbs and when hooked, roars off at 50 miles an hour. It may take you a couple of hours to land one of these huge fish.
There are so many other species for the avid angler to catch who is willing to go that extra mile. Anglers can catch nut, fruit and berry-eating fish like big Red and Silver Pacu, Couti, Aracu and many more scaled species all day long. All these smaller scaled species make for great fresh Catfish bait too! The weird and wonderful are also still to be discovered by many foreign fishermen and we have them all. Plenty of European anglers enjoy what is classified as 'coarse fishing', and an angler could easily 'bag-up' with sweetcorn, nuts, fruits, potato, fish strips or freshwater snails.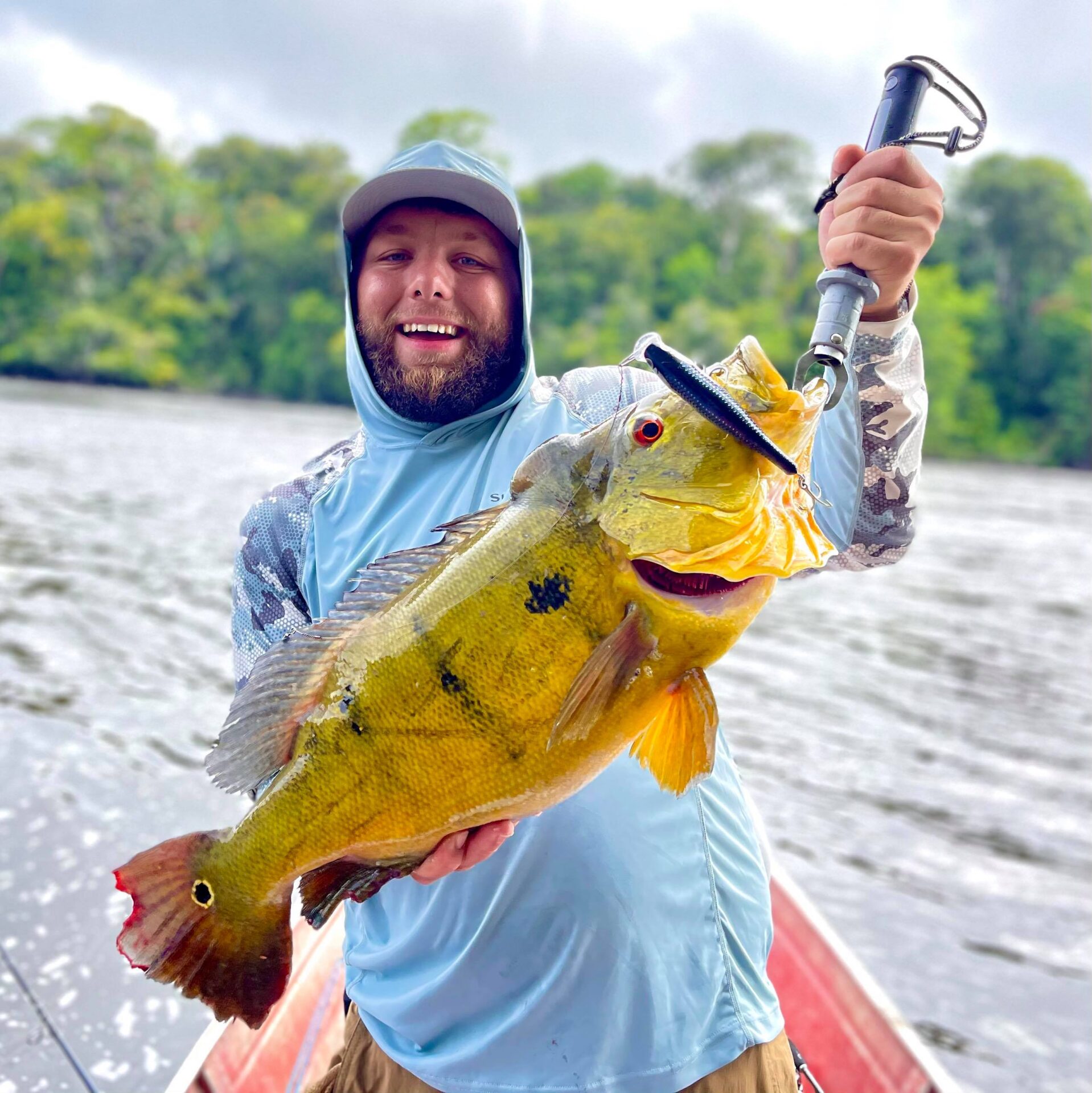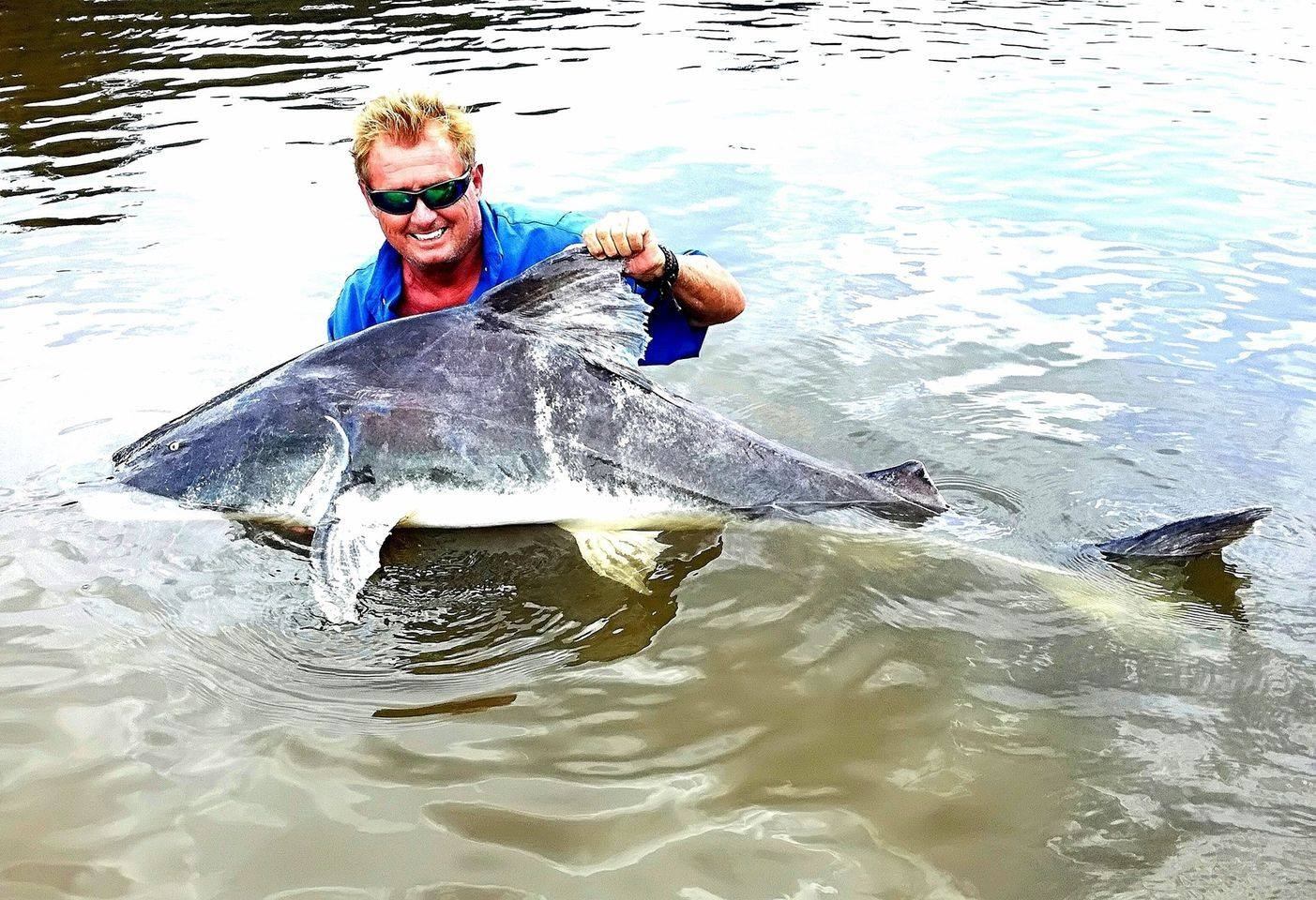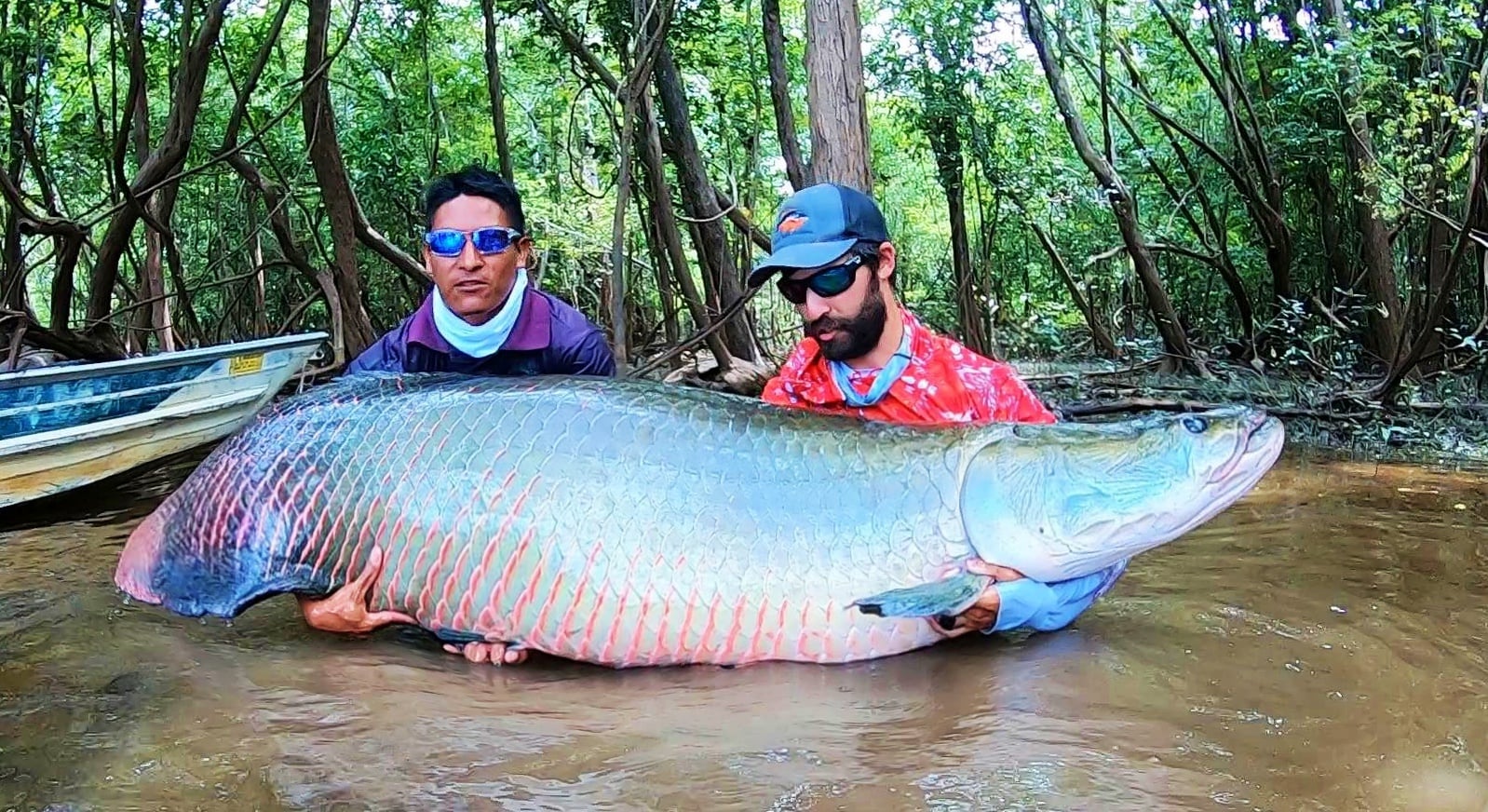 Our Jaguar Explorer Trips are set in the Upper Essequibo River region between King William Falls and the local Amerindian village of Apoteri. We have over 80 miles of river to explore as far as King William Falls and below in and around our landlocked Arapaima lakes and the main river system. 
We offer so much to do and see for solo anglers, couples, fishing partners, families and small groups, with a maximum ten anglers at one time.
Both our lodge and fly-camp are set up under the trees in the shade with a great view of the river to wake up to. A fixed kitchen at the lodge and a 'Safari-camp kitchen' at camp will supply our guests with wholesome cooking with three meals a day. The lodge offers 5 rooms for 10 anglers (two anglers per room) and at our camp, each of our anglers will have his/her own tent with a comfortable air mattress.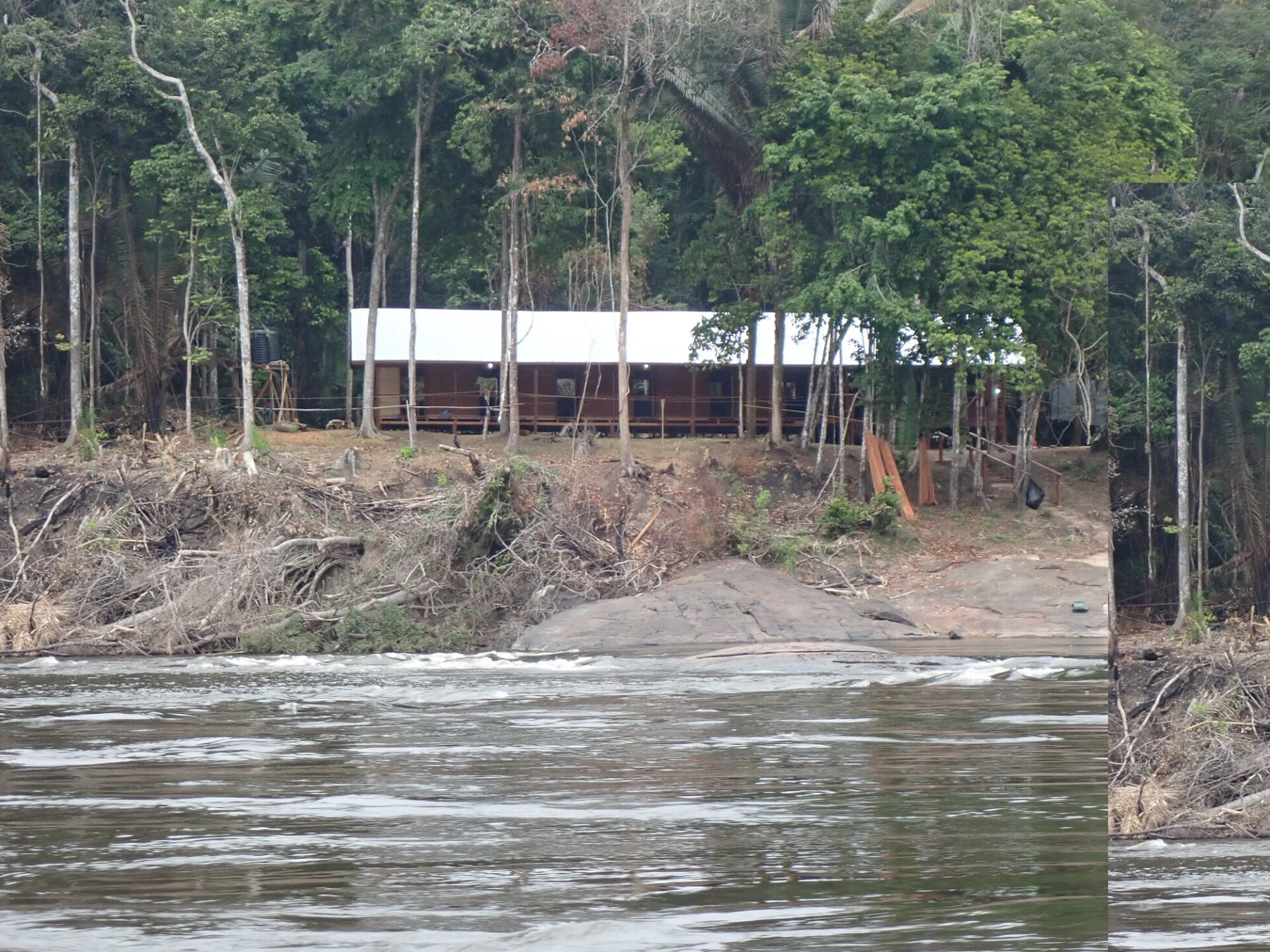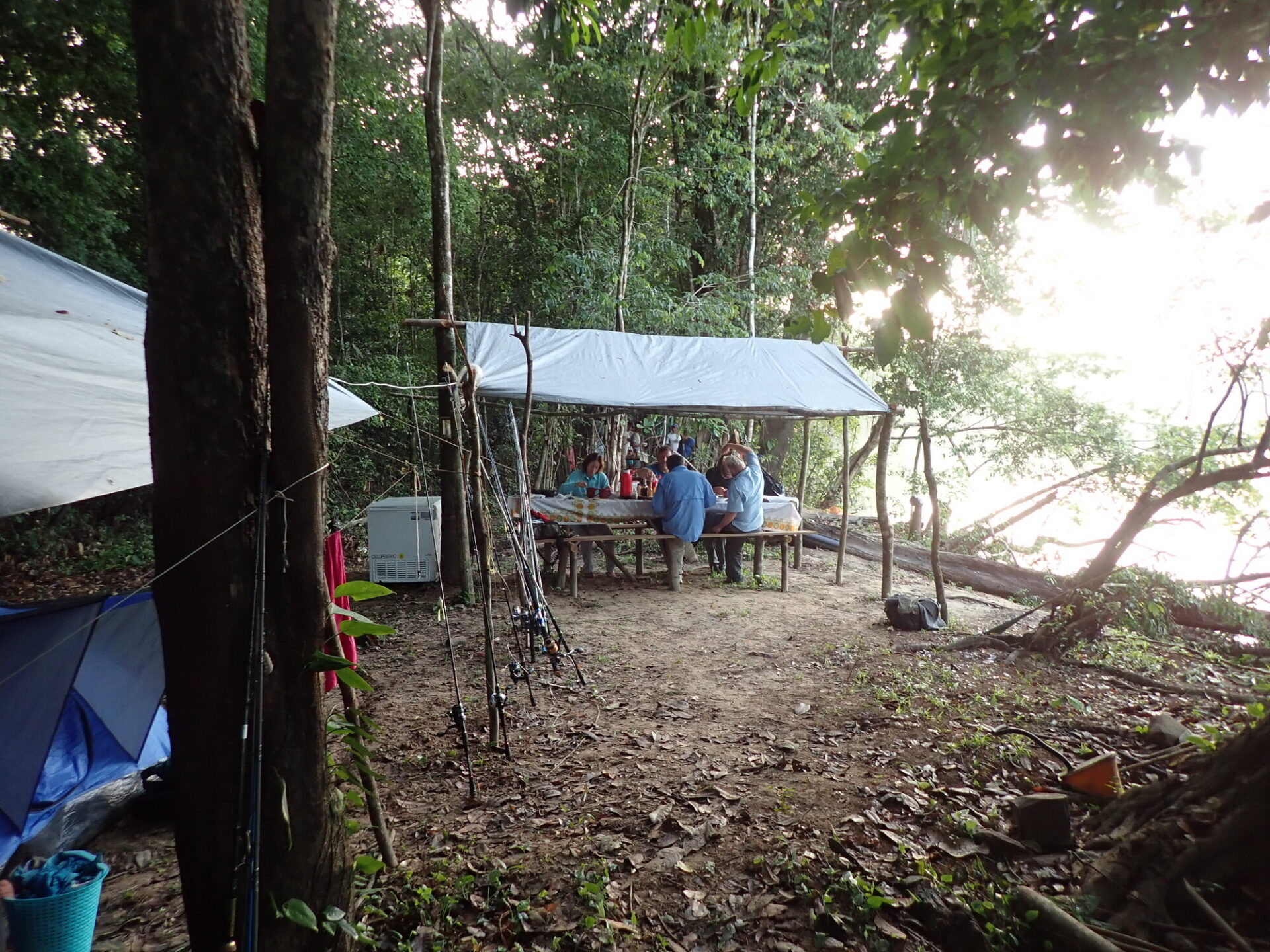 DAY 1: Arrival and transfer from Cheddi Jagan (GEO) International Airport (or Ogle) to Kanuku Suites and overnight
DAY 2: Morning flight to jungle village airstrip. Boat transfer from village to our Jaguar Explorer Lodge.
DAYS 3 – 6: four full days fishing near and around the lodge and King William Falls foir Cats and multi-species.
DAYS 7 – 9: Travel down to our Arapaima fly-camp and fish for three full days for Arapaima in the many lakes and lagoons, or fish the main river system for multi-species.
DAY 10: Early flight back to OGLE Airport arriving approx. 12.00pm, transfer to Kanuku Suites and overnight. Covid testing same afternoon.
DAY 11: Transfer to CJIA or Ogle and onwards journey home (suggest late evening to give enough time for Covid test results to be sent to guests).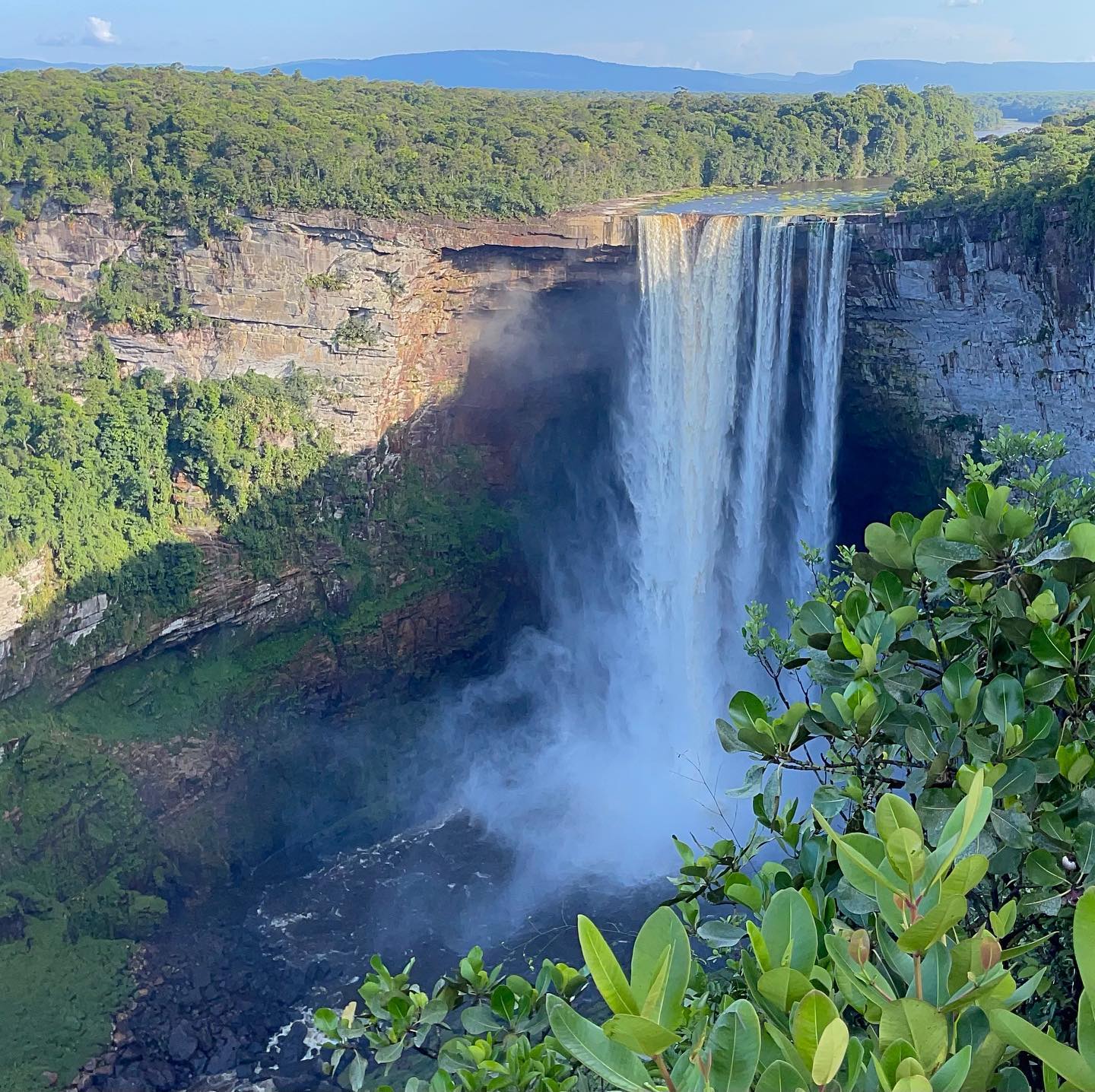 DURATION
11 Day Trip with 7 Days' Fishing, 8 nights at Lodge/camp, 2 nights hotel
COST
$4250 per angler (*new costs for season 2022/2023 mid-Sept to mid-April)
OCCUPANCY
Single anglers, partners, families (with children 9yrs and above), small groups all welcome. Two anglers per room at the lodge and each angler will have their own tent at the camp.
INCLUDED
Transfers from CJIA or Ogle and two nights at Kanuku Suites with Continental breakfast (one night on arrival and one night at end of trip), return flights Ogle/airstrip/Ogle, eight nights at camp with seven full days guided fishing, daily laundry, all meals, water, soft drinks and beer at camp.
NOT INCLUDED
International airfares, tipping (we insist on USD $150 per person to be divided between all guides and camp staff), Amerindian Community fees ($30 per person to be paid at end of trip to camp host), any meals and drinks other than in camp and liquor or other drinks other than above, any extra hotel stays other than stated above, costs associated with medical advice and medications for your trip, lures, fishing tackle etc.
TRIP NOTES
Costs are based on double occupancy at Kanuku Suites, sharing boat with fishing partner or other solo angler.

Prices are stated as a guide and may be subject to currency and seasonal variations.

Terms and conditions of payments: 50% as deposit on reservation, 50% due 90 days before arrival in GT.

A full tackle guide and gear list will be provided once a deposit payment has been received for reservation of trip.
Through our travel agent partners we are able to secure excellent rates for all your international and domestic flights and travel insurance that are not included in our packages. Please ask for Details.
Guyana now requires all tourists on entering the country to be fully vaccinated against Covid 19 and to provide proof of full vaccinations. Please check that you have had a Yellow Fever Vaccination and bring your Vaccination Certificate with you in case you are required to show it (Yellow Fever Vaccinations are now valid for life). Also inquire with your doctor for any other medications or vaccines needed.
Ready to book your dream fishing trip?