Argentina Fly & Lure Fishing Vacation for Golden Dorado
Destination
Rios Corrientes and Paraná, Esquina on the shores of the Paraná River
Season
August – May (season closed December)
Trip Type
Fly and lure fishing for Golden Dorado
Species
Golden Dorado, Pacu, Pirapitinga, Surubi
Description
Luxury Lodge and hard-core fishing adventure in pristine surroundings for Golden Dorados, Pacus and Surubi Cats
Cost
from $1402 per angler (all costs are in US dollars)
Duration
2 to 6 days fishing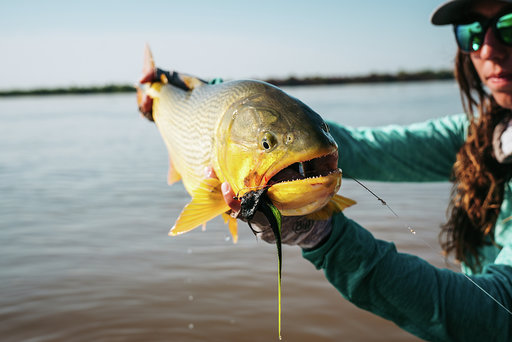 This trip of a lifetime for an adventure-seeking angler. Don Joaquín River Lodge is located in Esquina, Corrientes, lying on the banks of the Corrientes River. As it meets the Paraná River, a delta is formed and the scenery offered in Esquina, with its vast amount of native flora and fauna, attracts many tourists throughout the year. Its rivers, delta and vegetation make this the most perfect setting for Golden Dorado Fly Fishing in the world.
The Golden Dorado, often referred to as the "River Tiger," (Salminus maxillosus) is rapidly becoming one of the most prized fresh water sport fish species in the world. This aggressive and powerful migratory gamefish is constantly on the prowl for schools of baitfish to ravage and this makes them susceptible to both plug and fly angler alike. The aggressive nature of the Dorado, its spectacular leaping ability, fantastic strength and stamina has created the ultimate freshwater gamefish.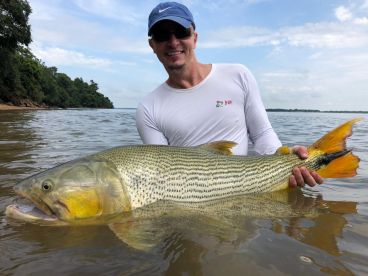 This river has extremely rich and varied fishing areas, with deep channels, gullies, sandbars, lagoons, stone points and dozens of streams and river overflows, making this area a real fishing paradise.
Our friendly bilingual fishing guides are professional and fully experienced and know the waters like the back of their hands. While we have fully equipped boats designed for fly and lure fishing, we also have many opportunities for wading enthusiasts to target strong, hard-fighting Golden Dorados in the 5-30 pound range.
The Dorado is an extremely strong, aggressive and acrobatic predator that busts on any baitfish in its vicinity. Packs of these bruisers can be seen chasing shoals of baitfish and the attacks are nothing but explosive.  When lure or fly fishing, once hooked, Dorados will strip line off your reel like express trains, and therefore good quality tackle is needed.
The Dorado is considered one of top predatory freshwater sportfish residing in several river systems of South America. Offering a striking brilliant gold sheen, it is just appealing to your visual senses as it is to tangle with one on the end of the line. Making incredible leaps, this incredible gamefish will test your drag to the limit. One of the strongest freshwater fish ,many angling fanatics have given up their quest for other species once they get a taste of the Dorado.
Anglers can drift fish from the boat or cast from the bank, between wood structure and rocks, and from different islands. Anglers can catch Dorados to over 30lb, Surubi Cats to over 60lb and Pacu to over 25lb.
Fly fishing for Pacu is a pure adrenaline rush. There are many methods to use for Pacu, with small streamers, flies that imitate insects falling from the trees, and imitation fruits.
Big Surubi can also be caught on flies and deeper lures and will pull like horses. Be prepared at any minute for a fish to streak away from you like a rocket.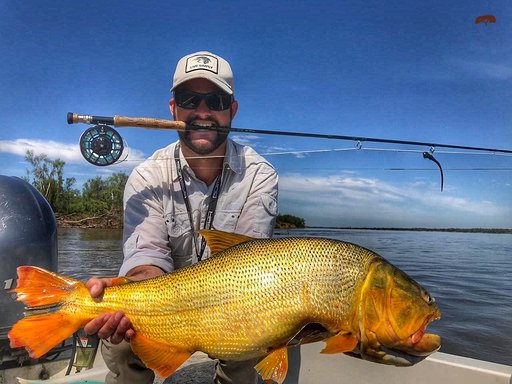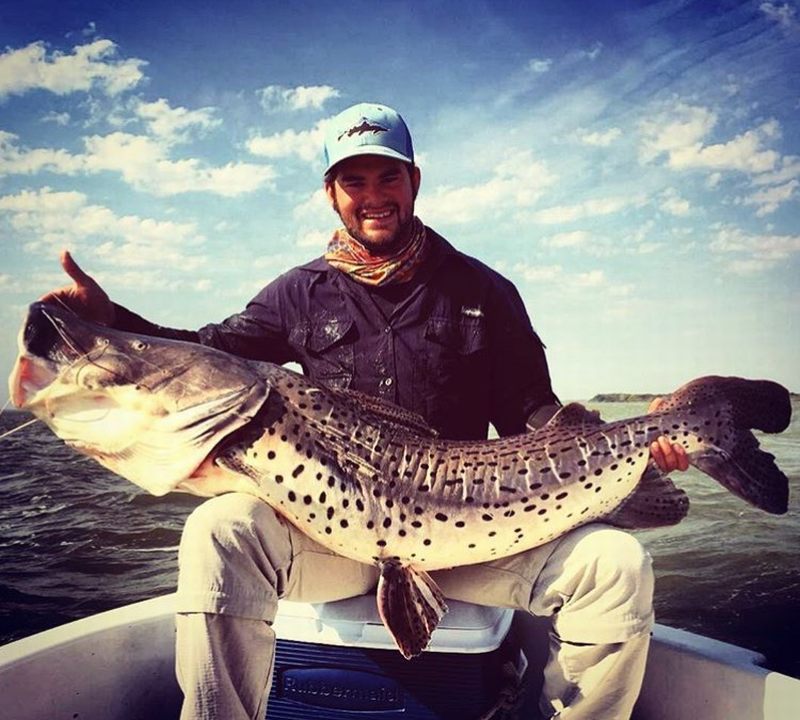 Lying on the banks of the Corrientes River this luxury Lodge has the capacity for entertain 16 guests in eight en-suite, fully air-conditioned rooms with private bathrooms. There are spacious dining and living room areas with a big veranda giving a majestic view of the river. There is an open bar 24hrs and we have telephone and internet access.
We serve top-quality, traditional Argentinian meals including the local Asados (BBQs), great wines and delicious gourmet desserts. Maid and laundry services are offered daily. We also have a Fly shop which is fully equipped with flies, rods, reels, lines and apparel. And if guests require, we have a loaner rod service.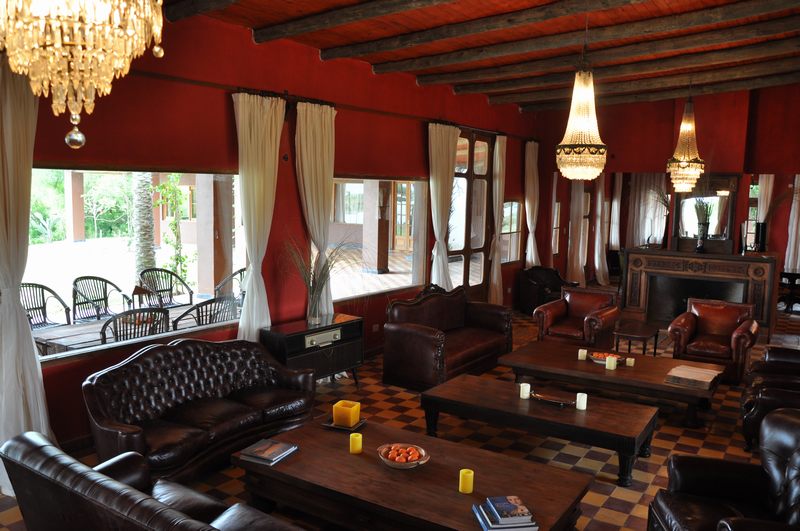 3 Nights / 2 Day Fishing (single occupancy) $1650
3 Nights / 2 Day Fishing (double occupancy) $1402
4 Nights / 3 Day Fishing (single occupancy) $2600
4 Nights / 3 Day Fishing (double occupancy) $2210
5 Nights / 4 Day Fishing (single occupancy) $3425
5 Nights / 4 Day Fishing (double occupancy) $2911
6 Nights / 5 Day Fishing (single occupancy) $4170
6 Nights / 5 Day Fishing (double occupancy) $3544
7 Nights  / 6 Day Fishing (single occupancy) $4750
7 Nights / 6 Day Fishing (double occupancy) $4037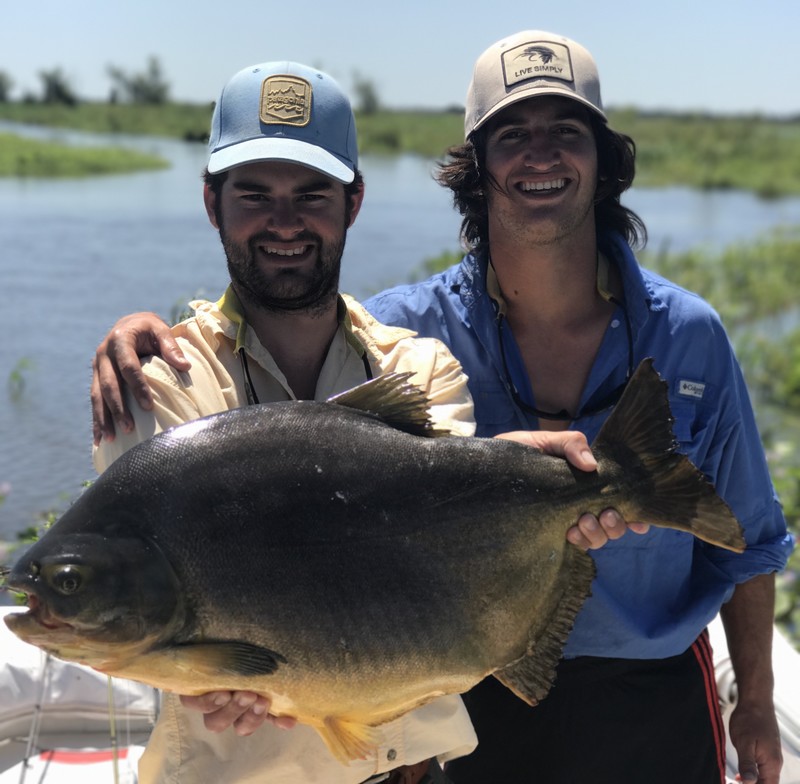 DURATION
2 to 6 days fishing
COST
from $1402 per angler (all costs are in US dollars)
OCCUPANCY
Single or Double Occupancy
INCLUDED
Our Golden Dorado fishing program rates include accommodation in one of our luxury suites, all meals, pre-dinner drinks and appetizers, Malbec wine, beer, Wi-Fi, guiding with one of our professional fly fishing guides, loaner fishing equipment and fishing license.
NOT INCLUDED
Transfers from Parana (PRA) or Corrientes (CNQ) to the lodge, gratuities for guides and house staff, airfare and private charters.
TRIP NOTES
Non-Fisher Rate: USD 200 per night subject to availability.
Optional Programs for the family with additional cost: Horseback riding, Safari by 4 x4, Motorboat trips, Gaucho culture experiences (Estancia Don Joaquin day), Birdwatching, Massages.
A 50% deposit is required to secure your places when booking. The remaining payment is due 90 days before actual trip starts.
We require guests to purchase their own Travel Insurance.
A full tackle guide and gear list will be provided once a deposit payment has been received for reservation of trip.
Tips – we suggest $25 pppd for your guide and $25 pppd for the lodge's staff.
Through our travel agent partners we are able to secure excellent rates for all your international and domestic flights and travel insurance that are not included in our packages. Please ask for Details.
Ready to book your dream fishing trip?