Arapaima Paradise Lodge Fishing Trip to Bolivia
Destination
Arapaima Paradise Lodge
Trip Type
Giant Arapaima and Catfish Adventure Trip
Species
Arapaima ~ Pacu ~ Corvinata ~ loads of Cats including Amarillo/Jau ~ Paleta/Firewood Surubim ~ Tiger/Shovelnosed Surubim ~ Granulated ~ Flatwhiskered ~ Jundia and Redtail Cats ~ Payara/Vampire Fish and much, much more ......
Description
Beautiful lodge built on the top of the hill, within the property of a Brazil-nut harvesting farm/Hacienda deep in the Bolivian jungle.
Cost
$4750 per angler (all costs are in US dollars)
Duration
6 days fishing and 7 nights at our lodge
Watch the Arapaima Paradise Video
Based at our beautiful lodge built within the property of a Brazil-nut harvesting farm/Hacienda, this trip is designed for the angler who is seeking an unforgettable experience hunting truly massive Amazonian fish, the giant Arapaima, Pacu, Corvinata, many different big Catfish, Payara/Vampire Fish and lots of other species.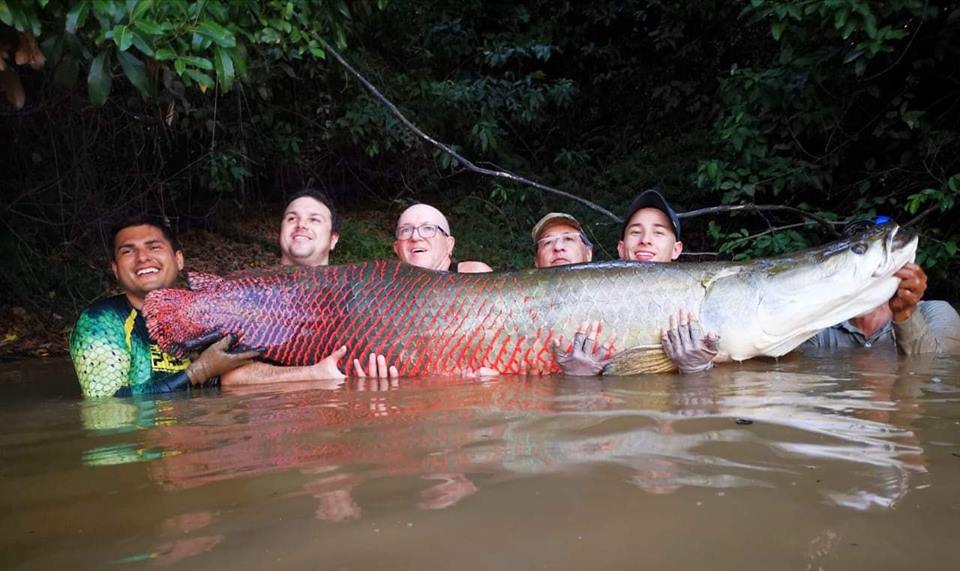 Arapaima
This mighty leviathan is the one Amazonian fish that every angler wants to catch and is the Holy Grail of all the Amazonian species. Arapaima lurks in the many ponds, lagoons and lakes (over 50 in this system alone) off the river. This fish is prehistoric in every sense, it's an air breather, but it's an incredibly delicate fish for its size at the same time.
Arapaimas 'roll' on the surface to gulp air and they easily give their presence away. With our strict catch and release policy, ALL Arapaima are not harmed in any way. They are revived carefully and released quickly to fight another day.
These incredible river monsters grow in excess of 4.5m and reach over 500lbs! The areas where we fish have many Arapaima and we target them using big flies and lures or with live, cut or whole dead baits.
To catch an Arapaima on a fly must be up there with the ultimate fishing experience to be had by any angler in the world! Heavy 10-12wt. outfits and big flies are a must here.
We also fish 'lighter' outfits with medium-sized lures to trigger amazingly strong and aggressive strikes from big Arapaima. A heavy or medium-heavy set-up with 65lbs braid provides some of the best sport fishing for these leviathans.
Giant Catfish
Huge Cats, from the unusual up to big bruising bullies are found in the deep holes of the river system proper. All can be caught on cutbait, livebait or whole dead fish.
Two species of Surubim or Shovel-nosed Tiger Cats (incuding the easily-caught and very odd, elongated 'Paleta' or Firewood Shovel-nose) are both fast, sleek and strike hard. These hieroglyphically-marked predators are also caught on lures. Growing to over 50lbs, they are powerful fish to catch.
The Flat-whiskered Cat is a dynamite of a fish for its size. Averaging 15lbs, they max out at about 25lbs and are the tastiest fish in the Amazon.
The express train Redtail Cats must be rated as the hardest-fighting Cats in the whole Amazon for their size. An 80lb Redtail will take you all over the river and strip line in reel-smoking, screaming runs.
Monster 'Amarillos' Jau Cats to over 180lbs are the Rottweilers of the river dwell in the rocks and fast water and will take you deep in their caves! Gentle persuasion followed by brute force is needed to land these giants.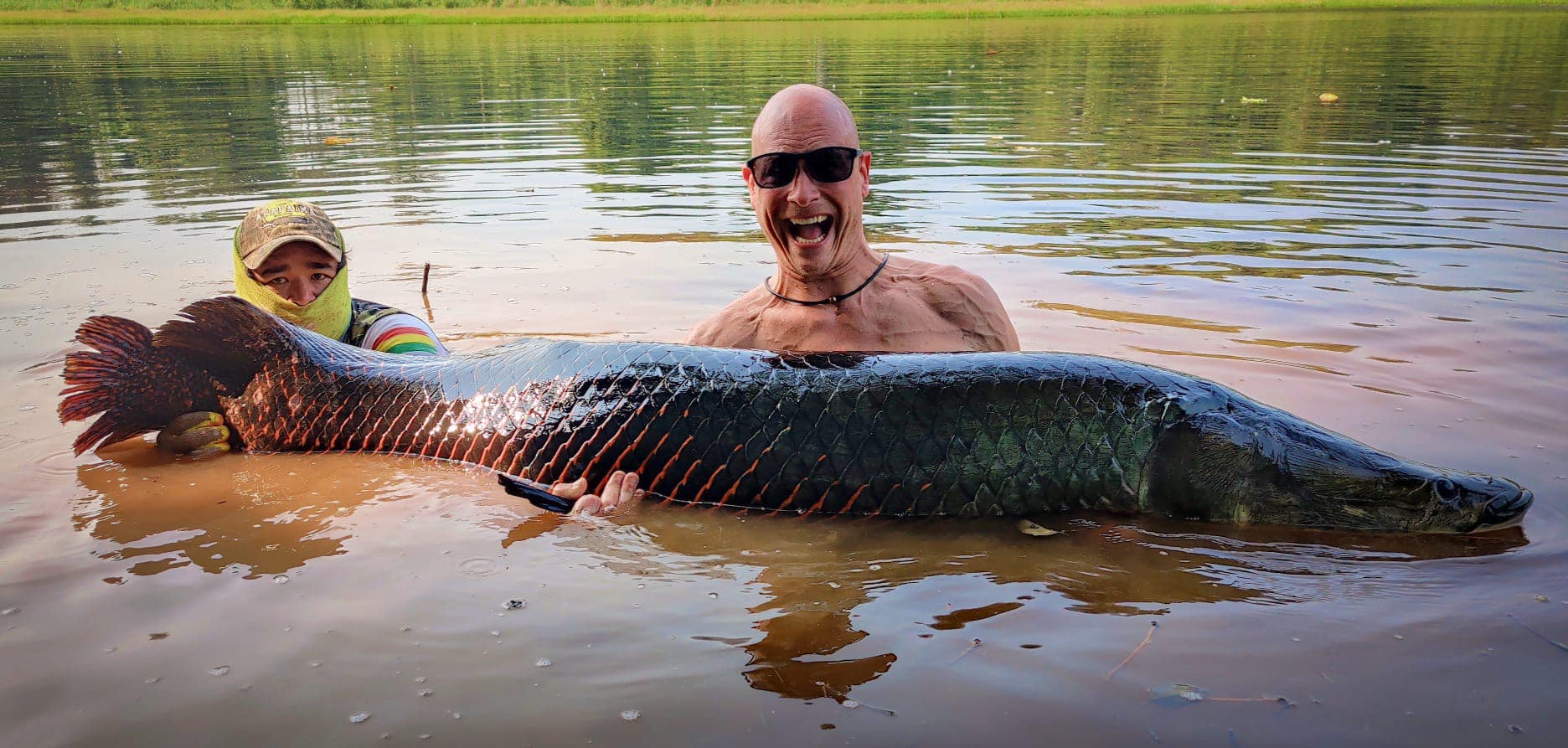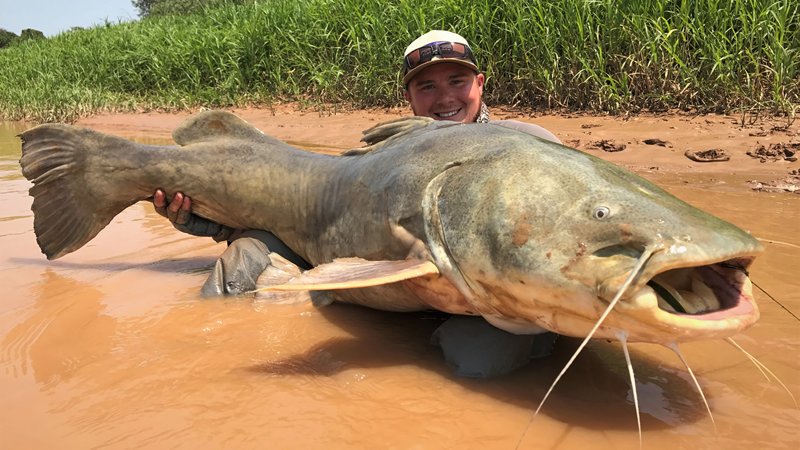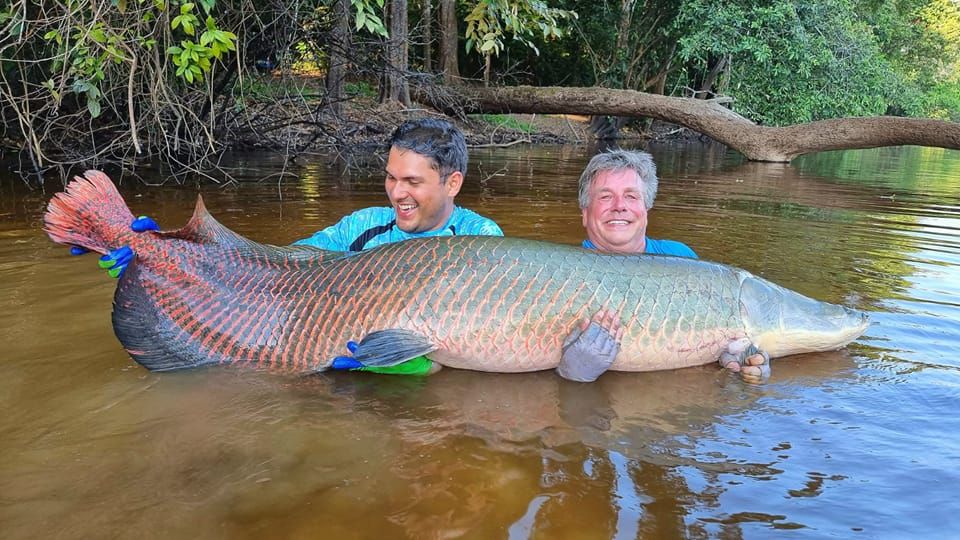 Our lodge is built to high standards, to accommodate 8 anglers in four twin rooms divided in two chalets. Each chalet has its own bathroom and shower and there is A/C in all rooms. There is a bar, eating area, TV room/lounge and a fully-stocked kitchen providing top local and American-style churrascos and main meals.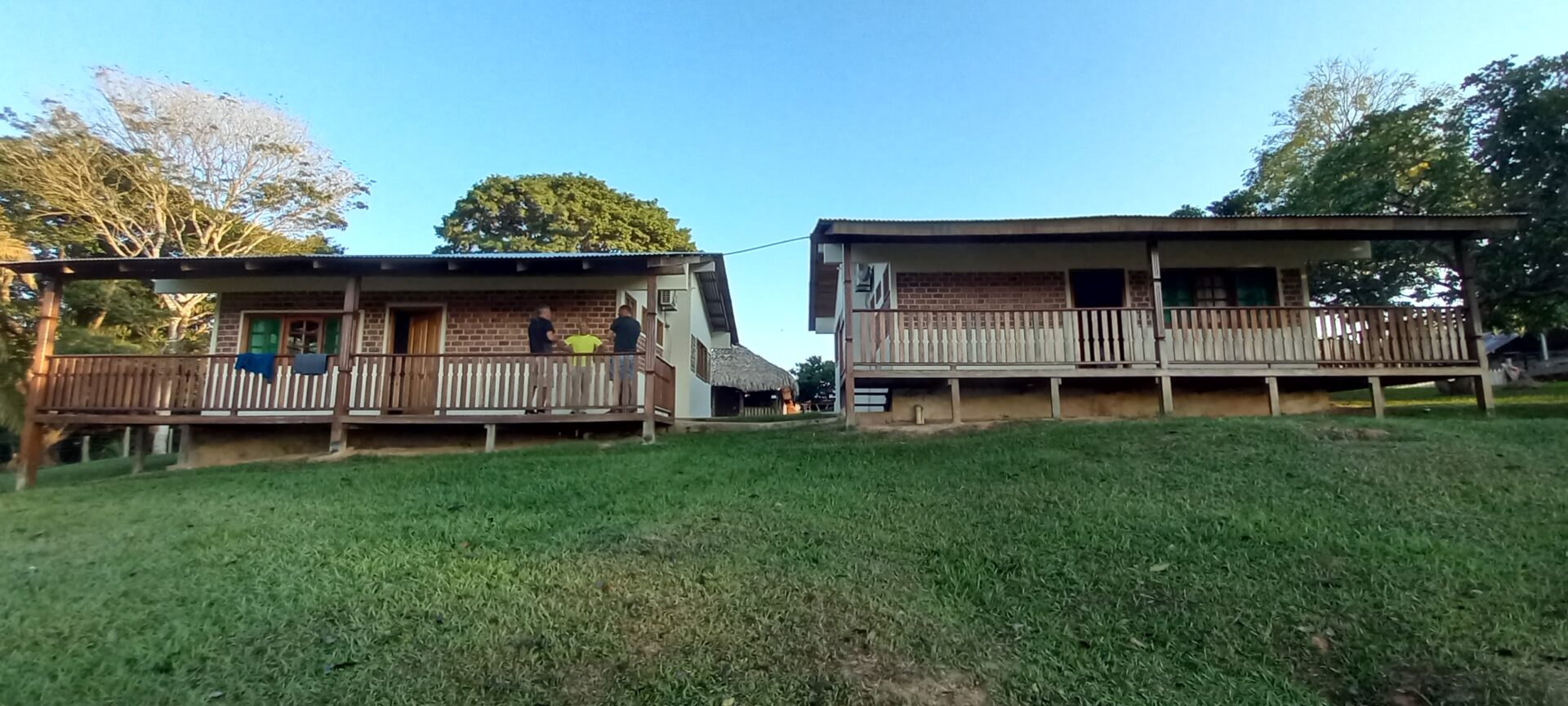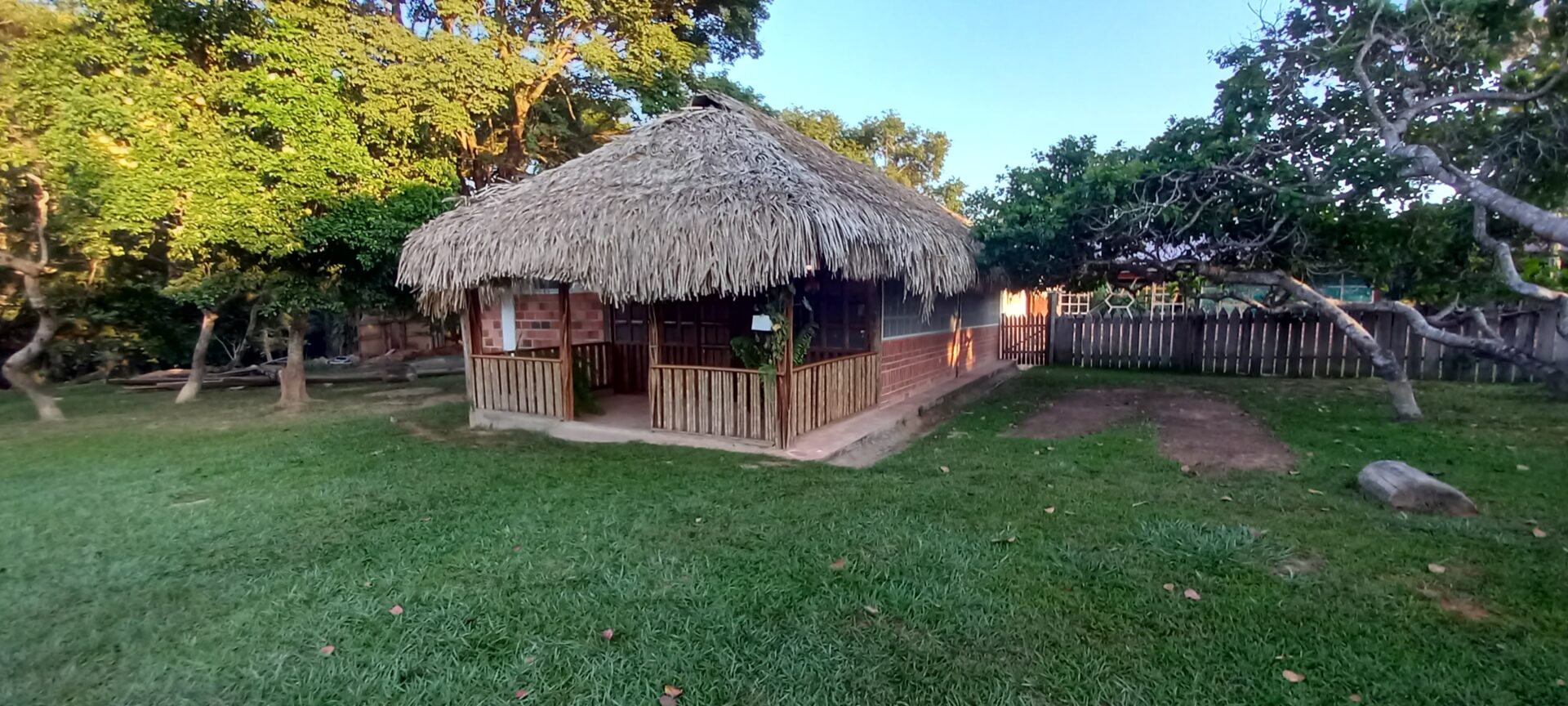 DAY 1: TOUR STARTS – Arrive from Santa Cruz to Riberalta latest this day in the morning. Charter flight to the Lodge and overnight for next 7 nights (all included).
DAY 2-7: Six full days guided fishing
DAY 8: Return to Riberalta early afternoon – TOUR ENDS. Flights are in the mid-late afternoon back to Santa Cruz.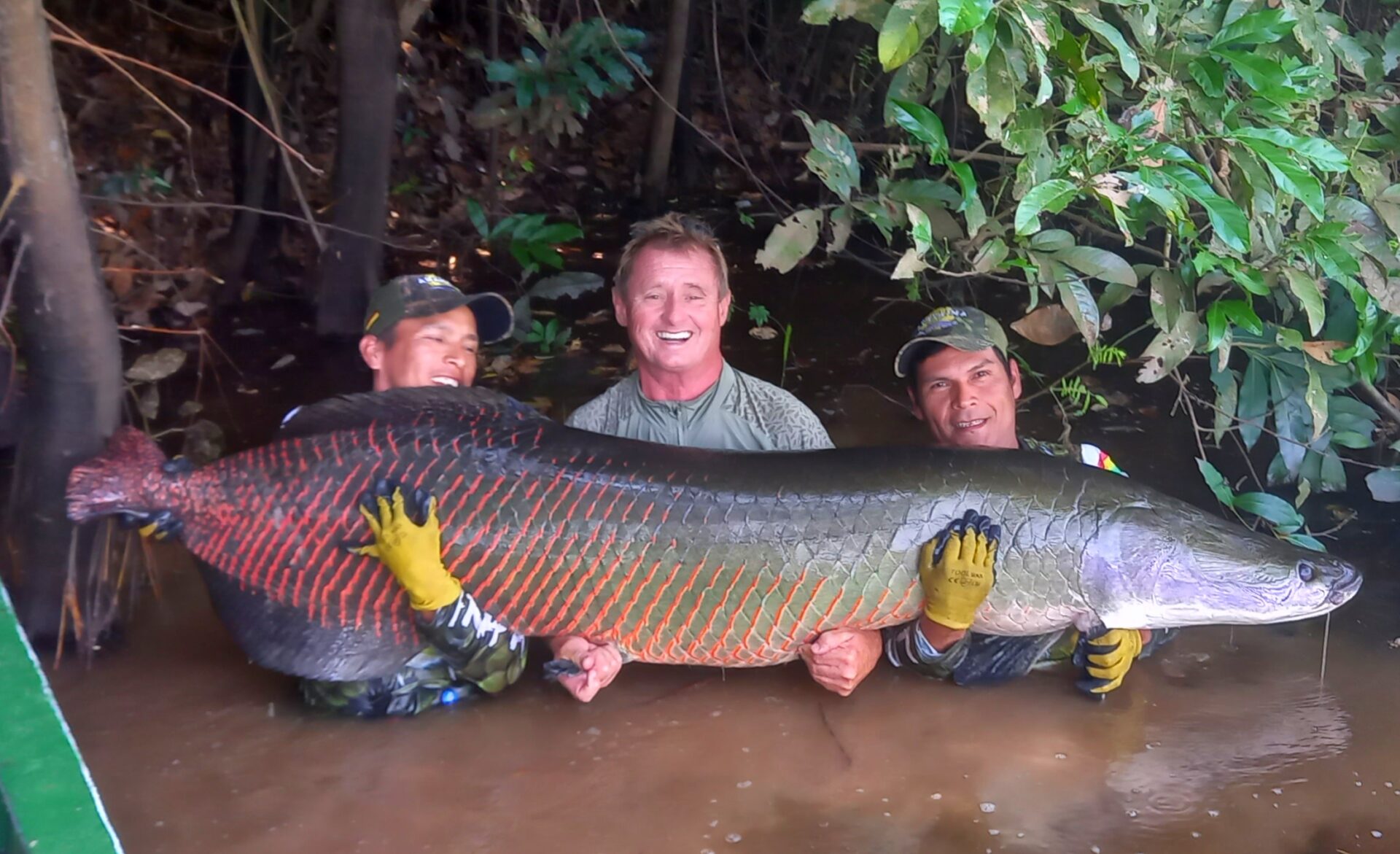 DURATION
6 days fishing and 7 nights at our lodge
COST
$4750 per angler (all costs are in US dollars)
OCCUPANCY
Single anglers, partners, families (with children 9yrs and above), small groups all welcome. Rooms are based on double occupancy.
INCLUDED
Return charter flights Riberalta /Lodge/Riberalta, seven nights at lodge with six full days guided Arapaima and Cat fishing, daily laundry, local transfers, all meals while at lodge and all drinks with water, coffee, soft drinks, beer (except liquor which will be charged for).
NOT INCLUDED
International or in-country airfares except as mentioned above, tipping (suggested USD $250 per person to be divided between guides and lodge staff), meals and drinks other than in lodge or when fishing, wine, liquor or other drinks other than above, costs associated with medical advice and medications for your trip, lures, fishing tackle etc., visas.
TRIP NOTES
Prices are stated as a guide and may be subject to currency and seasonal variations. Please inquire for exact prices for the dates you are interested in.
International and in-country flights are not included other than private charter flights, but we can help you arrange them.
Terms and conditions of payments: 50% as deposit on reservation, 50% due 90 days before arrival in Riberalta.
Please check with your country of residence if visas are required: www.boliviahop.com/visa-requirements/#visa_groups
A full tackle guide and gear list will be provided once a deposit payment has been received for reservation of trip.
Tips – we suggest $250 per person to be divided between guides and lodge staff.
Through our travel agent partners we are able to secure excellent rates for all your international and domestic flights and travel insurance that are not included in our packages. Please ask for Details.
Please check that you have had a Yellow Fever Vaccination and bring your Vaccination Certificate with you in case you are required to show it (Yellow Fever Vaccinations are now valid for life). Also inquire with your doctor for any other medications or vaccines needed.
Ready to book your dream fishing trip?