Lure, Fly & Bait Fishing Vacation in the Southern Amazon Jungle
Destination
Southern Amazon Jungle, Amazonas State
Species
Peacock Bass (Cichla pinima)~ Arowana/Monkey Fish ~ Bicuda ~ Giant Piranha ~ Matrinchá ~ Jatuarana ~ Payara/Vampire Fish ~ Pirapitinga/Giant Pacu and Cats including: Spotted Piranambú ~ Barbado ~ Redtails ~ Jau ~ three different Surubim/Shovel-nosed Cats ~ Piraiba/Filhote
Description
Comfortable jungle lodge accommodation right on the river with great jungle fishing opportunities.
Cost
$4500 per angler (all costs are in US dollars)
Duration
8 Day Trip with 5 1/2 Days' Fishing
The Amazon Roosevelt Lodge is located just upriver on the Rio Roosevelt from the confluence with the Rio Aripuanã.
This eco-friendly and very comfortable jungle lodge provides accommodation right on the Rio Roosevelt with great jungle fishing opportunities and your chance to catch a dizzying array of Amazon species.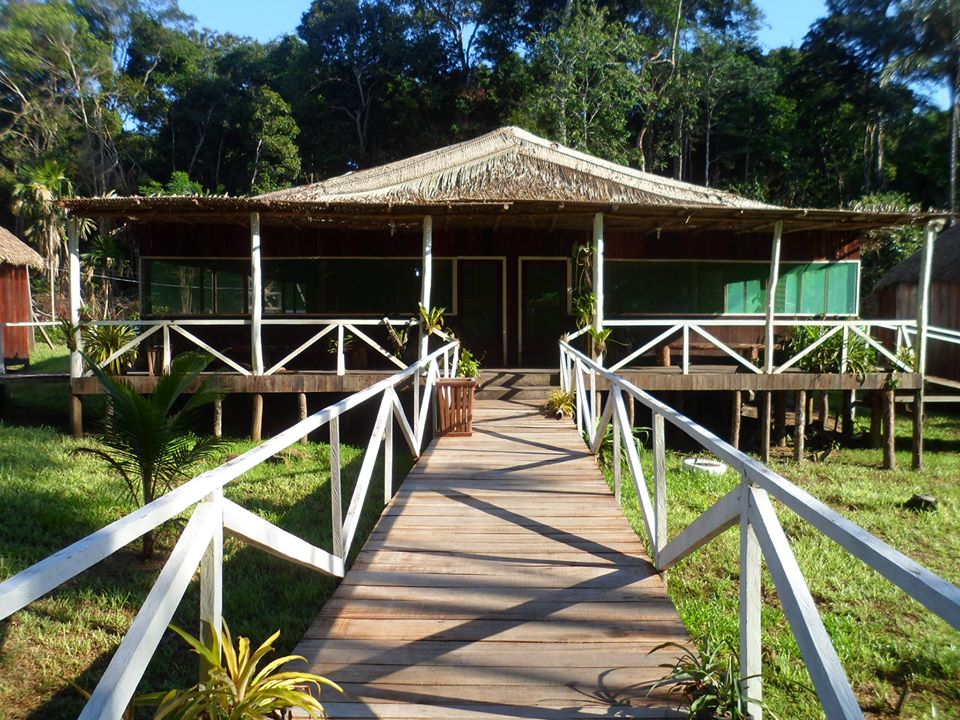 Excellent lure fishing can be had here with 'Yellow' Peacock Bass, Arowana/Monkey Fish, Bicuda, big Piranha, Matrinchá, Jatuarana, Payara/Vampire Fish, Pirapitinga /giant Pacu and more ….
Fly fishing is a wonderful way to search out many species with amazing results. Most of the fastwater species like Bicuda and Payara will rip line off your reel at a blistering pace and stripping gloves must be worn to avoid cuts and burns. Peacock Bass congregating around the rocky islands and banks of the river will attack flies with abandon.
At the impressive Semauma Falls an hour's boat ride above the lodge, the Payara action is spectacular and these big sabre-toothed silver missiles can be caught on flies, lures, or drifting live and dead baits. This incredibly beautiful area is studded with boulders and rock gardens with many braids, rapids and falls.
As well as a killer method for catching Payaras also known as 'Vampire Fish', cut bait and live bait fishing can be very productive in these two rivers for many species of Cats. Spotted Piranambú, Barbado, Redtails, Jau, three species of Surubim/Shovel-nose Cats, the Piraiba/Freshwater Shark and other interesting monsters of the deep!
Anglers can also try for some huge Piraracú/Arapaima in one of the lakes on dead bait, large lures or flies, but these fish are shy and very difficult to catch here.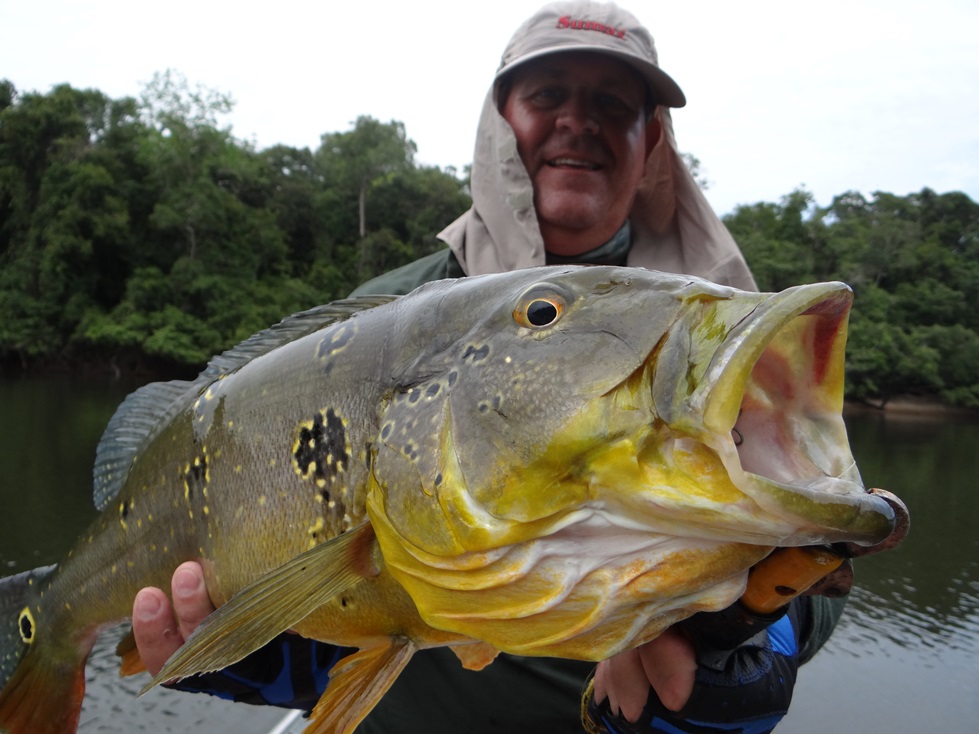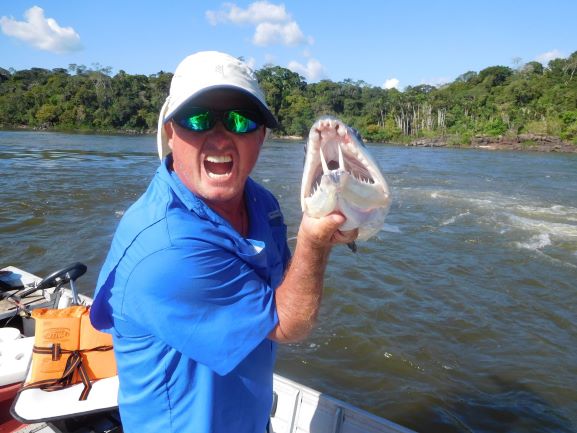 Roosevelt Lodge is constructed totally from sustainable timber and natural resources. There are eight private rooms that can sleep up to three anglers in each.
Easy to get to from the city of Manaus, the gateway to the mighty Amazon and its tributaries. In the State of Amazonas, this very comfortable lodge offers great meals, friendly staff and top service, and being on the river itself, is really close to the action!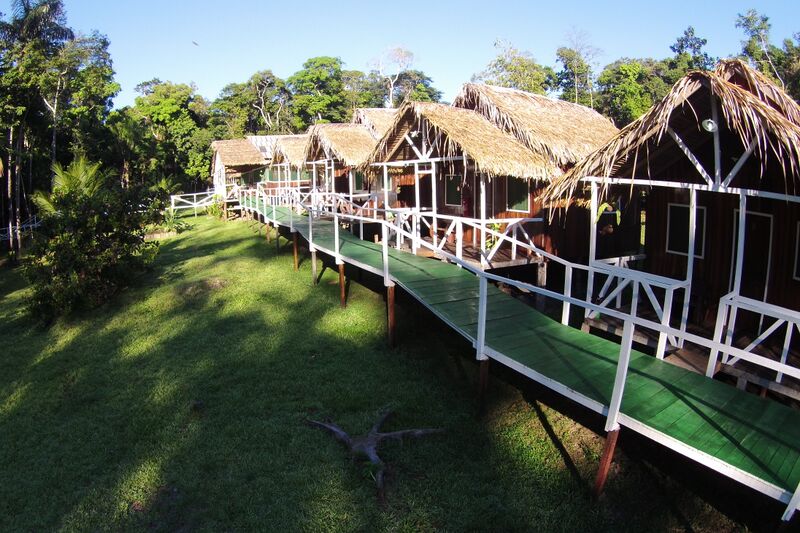 DAY 1:  TOUR STARTS: arrive in the Amazonian city of Manaus in Brazil, transfer to hotel and overnight.
DAY 2: Early morning transfer to airport and fly to the town of Apuí. 4×4 transfer to the river and boat upriver to lodge (this option is for 2-6 anglers). Fish this afternoon after lunch. If the group consists of 8 – 10 anglers, we will fly them via private charter plane directly to the lodge's airstrip.
DAYS 3 – 7: Five full days of guided fishing.
DAY 8: Depart by plane and arrive back in Manaus, transfer to international airport and onwards journey home – TOUR ENDS.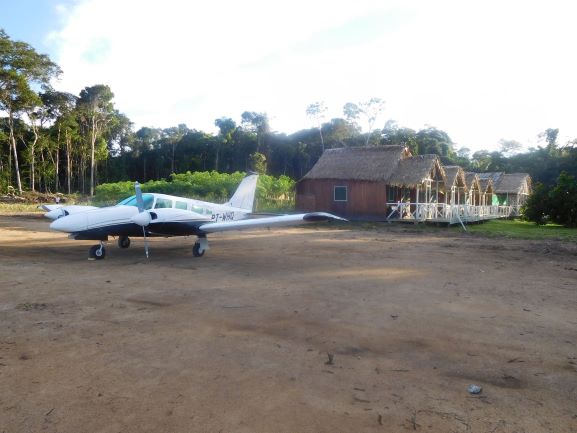 DURATION
8 Day Trip with 5 1/2 Days' Fishing
COST
$4500 per angler (all costs are in US dollars)
OCCUPANCY
Cost based on Double Occupancy
INCLUDED
Pick up and transfer to hotel and overnight, return flights Manaus/Apuí, car transfer to river and boat to lodge (or direct flight to airstrip if numbers allow), all food and standard beverages while at lodge and while fishing, daily laundry, 5 1/2 days guided fishing based on double occupancy and cut/dead baits.
NOT INCLUDED
International and internal flights to and from Manaus except as stated above, any extra hotel stays, transfers other than stated above, visas, meals and drinks while not at lodge, any tips, hard liquor, wine, lures, jigs, worms, live baits (Tuvira make excellent livebaits).
TRIP NOTES
A 50% deposit is required to reserve places when booking. The remaining payment is due 90 days before actual trip starts.

If flying straight into the lodge's airstrip with a group of 8 – 10 persons via private charter plane, the weight allowance is 15kgs in total per person, including hand luggage.

If flying by commercial plane to Apuí, the weight allowance is 10kgs per person, including hand luggage.  Any weight above this will be charged at R$25 (approx.. USD $5) per kg over. 

Tips – suggested

$100 per person for the guide(s) and $100 per person to be shared by the lodge staff. Tips to be given directly to your guide and to the lodge host for the staff.

A full tackle guide and gear list will be provided once a deposit payment has been received for reservation of trip.
Through our travel agent partners we are able to secure excellent rates for all your international and domestic flights and travel insurance that are not included in our packages. Please ask for Details.
Please inquire with your doctor for any other medications or vaccines needed.
Ready to book your dream fishing trip?