Rio Abacaxi Luxury Houseboat Peacock Bass Trips
| | |
| --- | --- |
| Destination | Rio Abacaxi, Amazonas |
| Country | Brazil |
| Season | July to October |
| Trip Type | Floatplane Fly-In Jungle Adventure Fishing Trip |
| Species | Mainly two species of Peacock Bass including large 'Yellow' Cichla pinima and Popoca/C. monoculus, Bicuda, Matrinchá, small Wolfish, mixed Cats including Surubim/Tiger, Redtails and Piraiba/Filhote |
| Description | Luxury Houseboat trips deep in The Amazon Jungle targeting Peacock Bass (Cichla pinima 'Yellow' Peacocks). |
| Cost | $4250 per angler (all costs are in US dollars) |
| Duration | 9 Day Trip with 6+ Days' Fishing |
View The Rio Abacaxi Video
Our brand-new and ultra-modern Houseboat is the only boat of its kind with great lines, modern furnishings and four double cabins. She sails deep into The Amazon Jungle where the motor boats are launched with our guests targeting mainly Peacock Bass (Cichla Pinima 'Yellow' Peacocks).
In May in this area, the water levels drop quickly and the river starts to recede out of the flooded jungle. Mid-July to end-October is prime time to target Peacock Bass and other species as the water levels have dropped and the fish are easier to target during this period. Most Cats can be found also, depending on water levels at the time.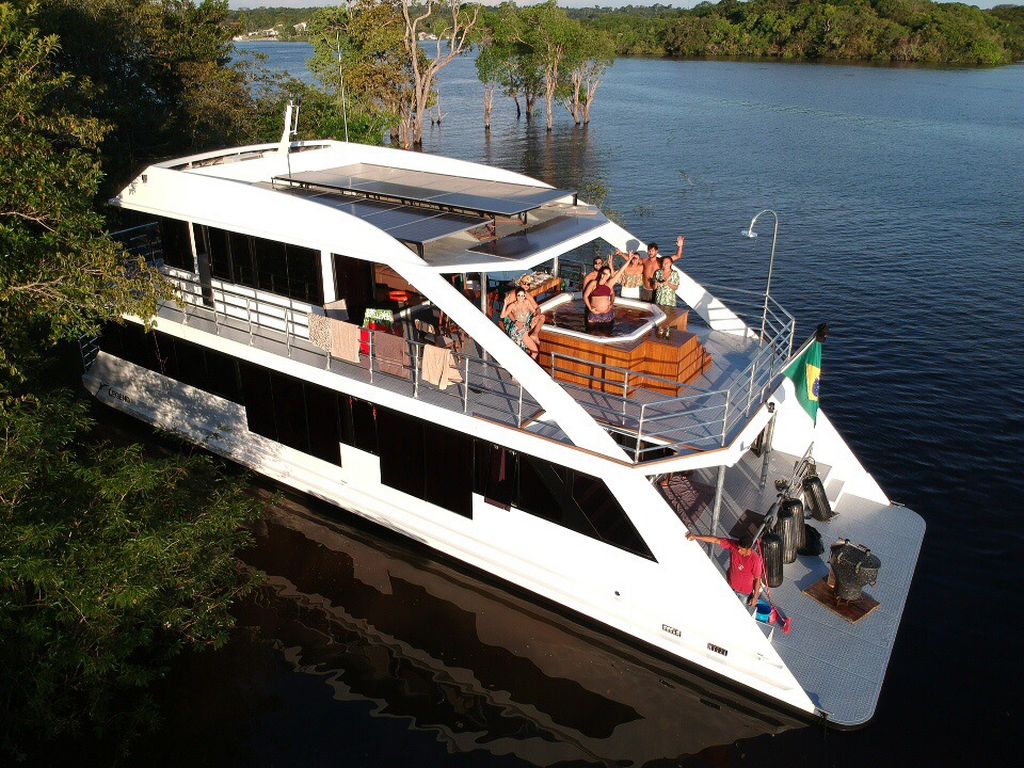 Fishing on the Rio Abacaxi can be superb, with topwater action for Giant Cichla pinima 'Yellow' Peacocks and the smaller Popoca/Monoculus Peacock Bass. Anglers use surface Prop baits, poppers and stick baits/Super Spooks in the many lagoons and river system, against submerged trees and brush, banks, off points and along the white sandy banks.
Excellent subsurface action for Peacock Bass can also be had using minnow baits, bucktail jigs with extended tails, soft plastic glide baits and flukes, and other lures.
There are other predators including 'Knife' Payara, big Black piranhas, Bicuda, Matrinchá, Sardinata and more in the upper reaches (levels depending).
Fly fishing is a great way not only to target Peacock Bass, but also to search out other species with good results, like Bicuda, Sardinata,Piranhas and more. These fish will rip line off your reel at a blistering pace and stripping gloves should be worn to avoid cuts and burns.
Cats include two species of Surubim/Tiger, Flat-whiskered, Redtails and Piraiba/Filhote.
Our fishing boats are 17ft skiffs with raised decks, fishing seats, 25Hp engines and electric trolling motor. The boats will have an ice box filled with ice and drinks of your choice. Two anglers will share the boat with a guide. These boats are light and can be easily carried and dragged to get into landlocked lagoons and lakes.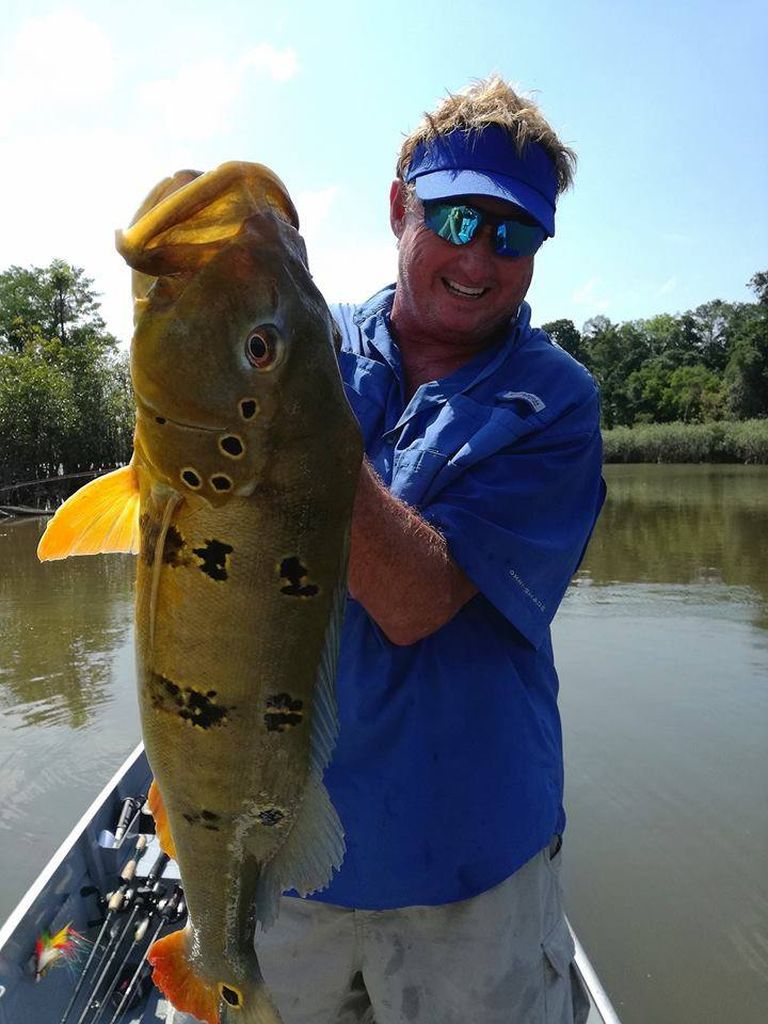 Our ultra-modern Houseboat is the only boat is one of a kind boasting four luxury double cabins. Each cabin has its own private bathroom with hot and cold water and showers.
We have a Jacuzzi, bar area, dining room, large living room and outside seating areas, and all inside areas are fully air-conditioned.
The kitchen, all staff and two generators are set up in our support boat well away from our anglers and this makes for a totally comfortable and relaxing stay for our guests and a good night's sleep!.
The food on board is delicious and beautifully presented and is a mix of Brazilian and American-style. Beer, soft drinks and water on board are available 24/7.
DAY 1: TOUR STARTS – arrival in the city of Manaus and transfer to the hotel and overnight.
DAY 2: Early morning floatplane from Manaus to the river and start fishing after lunch! Overnight on the Houseboat.
DAY 3 – 8: Six full days of fishing. Overnight on the Houseboat.
DAY 9: Floatplane back to Manaus late morning and transfer to international airport for onwards journey home – TOUR ENDS.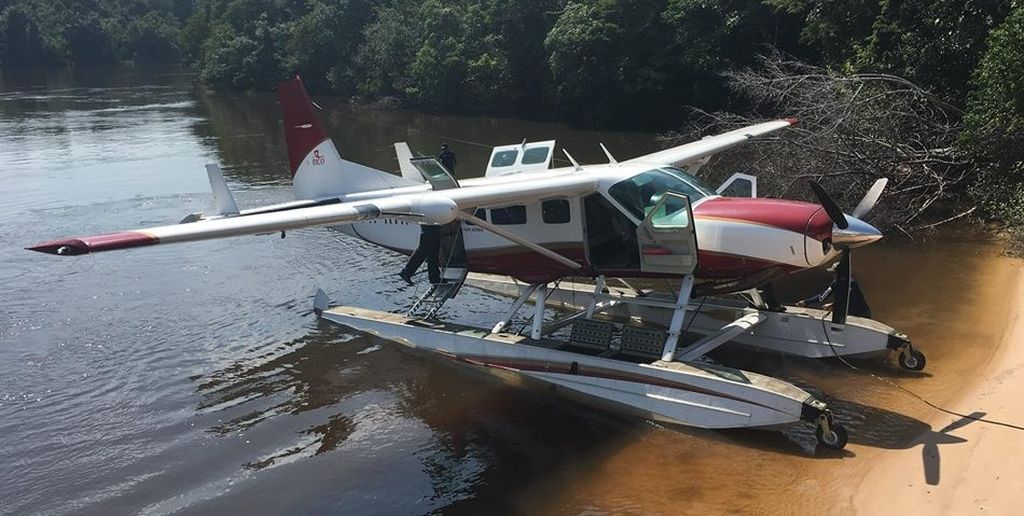 DURATION
9 Day Trip with 6+ Days' Fishing
COST
$4250 per angler (all costs are in US dollars)
OCCUPANCY
Single anglers, partners, families (with children 9yrs and above), small groups all welcome. Rooms are based on double occupancy.
INCLUDED
All transfers on arrival day before trip and overnight at hotel in Manaus, return floatplane flight in and out of the jungle, all food and beverages while at the Houseboat and while fishing, daily laundry and 6+ days guided fishing.
NOT INCLUDED
Flights other than stated above, meals and drinks while in Manaus, any tips, hard liquor, wine, fishing tackle, rods, reels, lures, jigs etc. Visas - N.B. European, American, Canadian, Australian and Japanese citizens do NOT require a visa for entry into Brazil.
TRIP NOTES

A 50% deposit is required to reserve places when booking. The remaining payment is due 90 days before actual trip starts.
A strict 15kg weight limit per person is allowed on the floatplane. There is no need to over-pack as there is daily laundry.
A full tackle guide and gear list will be provided once a deposit payment has been received for reservation of trip.
Through our travel agent partners we are able to secure excellent rates for all your international and domestic flights and travel insurance that are not included in our packages. Please ask for Details.
Tips – we suggest $150pp for your guide and $150pp for the remaining houseboat staff.
Please check that you have had a Yellow Fever Vaccination and bring your Vaccination Certificate with you in case you are required to show it (Yellow Fever Vaccinations are now valid for life). Also inquire with your doctor for any other medications or vaccines needed.
Ready to book your dream fishing trip?