'Gloria de Deus' Houseboat
Giant Peacock Bass Fishing in Brazil's Amazon Rainforest on the Rio Negro and tributaries
Destination
Rio Negro and tributaries, Amazonas
Trip Type
Houseboat adventure fishing trip deep in the jungle
Species
Three species of Peacock Bass, Arowana, Traira/Wolfish, Bicuda, Piranha, Jacundá, Matrinxá, Surubim Cats, Redtail Cats and Piraiba/Filhote Cats
Description
Small Houseboat accommodation for small groups deep in The Amazon Jungle on the Rio Negro and tributaries, targeting Giant Three-Barred Peacock Bass and many other species. *THIS TRIP IS ONLY FOR SMALL GROUPS AND NOT INDIVIDUALS OR PARTNERS with a min. 6 anglers/max. 8 anglers.
Duration
9 Day Trip with 6+ Days' Fishing
Giant Peacock Bass Fishing in Brazil's Amazon Rainforest
WELCOME TO THE JUNGLE!
Amazon-Angler's 'Gloria de Deus' Houseboat Peacock Bass trip in Brazil's Amazon Rainforest is an exciting adventure fishing trip for Giant Three Barred Peacock Bass.
Our 'all inclusive' jungle adventure trips are based out of Barcelos on a small Houseboat in the Rio Negro and tributaries. As well as big Peacock Bass, our anglers will catch many other species that hit lures and flies too.
We operate these trips from October to March and these are prime times to target Giant Peacock Bass and other species as the water levels have dropped and the fish are easier to target. Most Cats can be found also, depending on water levels at the time.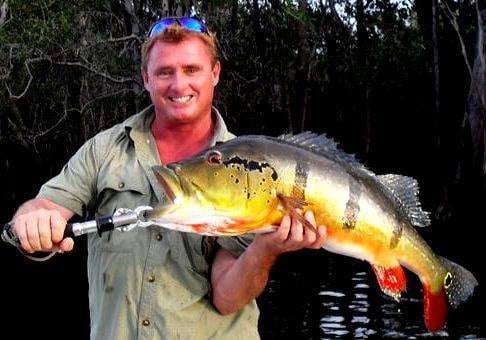 The tributaries of the Rio Negro have lagoon after lagoon filled with hard-fighting Three-Barred or 'Speckled' Peacock Bass (Cichla temensis) that can reach up to 30lbs. Fish hold up in fallen trees and tree stands, drop offs, points and sandy beaches as well as in the thick structure of the huge lagoons and river points.
Our fishing boats are 17ft skiffs with raised decks, fishing seats if needed, 30Hp engines and electric trolling motor. Each boats will have an ice box filled with ice and drinks of your choice. Two anglers share a boat with a guide. These boats are light and can easily be carried and dragged into landlocked lagoons and lakes if needed.
Peacock Bass anglers will tell you, that once you have had a big Peacock blow up on your surface lure, you'll be hooked for life! There is nothing more exciting and exhilarating than seeing that big fish explode on your Propbait, Spook or other surface bait. The strike is nothing less than awe-inspiring, loud, aggressive, fast, furious and shocking all in one.
Our three main target species here are the Giant Three Barred/Speckled Cichla temensis which are the largest at over 30lbs, Butterfly Cichla orienocensis to 14lbs and 'Popoca' Cichla monoculos to 9lbs. Temensis starts off life as 'Pacas' or Speckled Peacocks and will morph into the full-blown Three-Bar 'Açu' breeding uniform for its spawning mode. Peacock Bass are structure-loving fish, although spawning fish are often seen with their young dimpling the flat mirror glass surface of a quiet lagoon. If they don't want to eat a bait, they'll want to kill it with explosive strikes and that's NO exaggeration. Baits have to be worked fast here in the Amazon. Nothing slow swims in the Amazon and stays alive for long.
In the rainy season, the waters rise incredibly. A river that is only 100m wide within its banks in the dry season, may be 20 or more kilometres wide in the rainy season, spread way out into the flooded jungle. Fishing during that time is like finding a needle in a haystack as the predators have followed the baitfish far back into the jungle. Once the rains stop and the levels recede back out of the jungle and into the river banks, this is prime time to catch this magnificent adversary.
Key structures that Peacock Bass love to inhabit are entrances to lagoons, points of beaches and trees, shoulders between a bank and an island, blow-downs and lay-downs, stands of trees and individual trees, drop-offs and sand bars. Best surface baits to use are Klures propbaits or similar propbaits, poppers, walk-the-dog stick baits like Spooks and other cigar-shaped lures. Best sub-surface lures are lead-head jigs, minnow-style baits like Rapala X raps, Yozuri Crystal Minnows, Cotton Cordell or similar. Bucktail Jigs with extended tails can catch you over 150 fish a day, although many will be smaller than when using the larger baits. Fly fishing is a great way to fish in the right conditions, off sandy beaches, in lagoons and in the many river systems. You can catch plenty of Peacocks a day with large, flashy streamer flies and poppers.
INCIDENTAL CATCHES
We catch many other species that hit lures intended for Peacock Bass too. All great sportfish in their own way, each has its place in our fishing agenda. Most can be caught on the usual Peacock Bass lures, but many anglers like the variety that these great fish give, so will often bring a few different lures in the tackle box to target them.
Arowana/Monkey Fish, due to its jumping prowess in high water and feeding of birds, spiders and other insects up in the higher branches of submerged trees. Great sport on medium tackle and reaching over 12lbs, they take stick baits, jigs and minnow baits and flies. Traira/Wolf Fish are usually found at the back end of lagoons or in any oxygen-depleted water. They readily take spooks and other stick baits and love jigs, flies, minnows etc. They max. out at around 7lbs.
Bicuda is a fast-water species that can grow to 10lbs here but average 2-3lbs. Lightning-fast and acrobatic too, these long pike-like fish will hit most topwater and small subsurface lures, jigs and flies. Dogfish are great fun on ultra-light tackle and will inhale flies, small jigs, mini-rapalas etc. They look like a small freshwater Barracuda and have a set of teeth only a Rottweiler would love. A nasty little predator with an elongated body and getting to a max. 3lbs.
Jacunda is one of the prettiest fish in the Amazon and a shame that they don't grow larger. Reaching 2-2.5lbs, they will take most small lures, flies and jigs. There are the ever-present Piranhas, which will take a chomp at anything small or big enough! Any jig, soft plastic or wooden lures can be 'Piranhavized' at any time. They are a real pain in the A$$. My advice to fly and jig tiers, go simple, no elaborate designs, or you'll be spending lots of cash on new ones!
Surubim/Shovelnose Cats are great on lures also, often taking jigs, small minnow baits and flies and roaring off at a rate of knots. They grow to over 30lbs in the Rio Negro Basin and can be seen on submerged sandy beaches and in lagoons slowly swimming along. And of course we have bigger Cats for those who want to chill out in the shade with a cold drink and wait for a reel-burning experience. Redtails and Piraiba are here in the deeper holes and gullies.This is a great trip for those who would like not only some amazing lure fishing for the hardest fighting freshwater fish on the planet, but also plenty of comfort at the end of the day and during the night. The perfect trip for couples, families, partners or even solo anglers.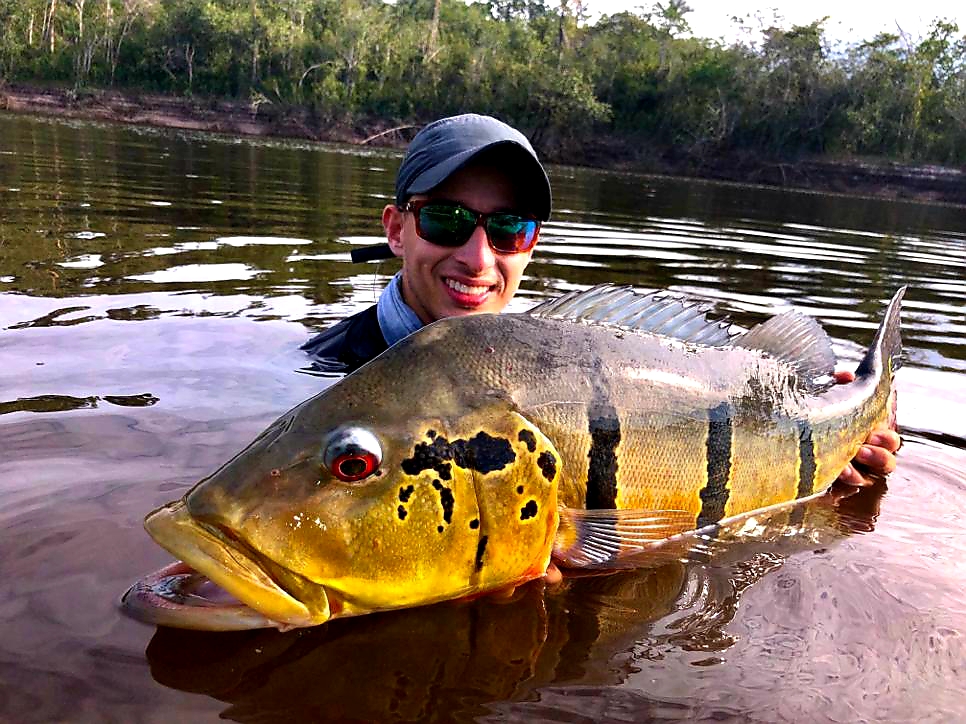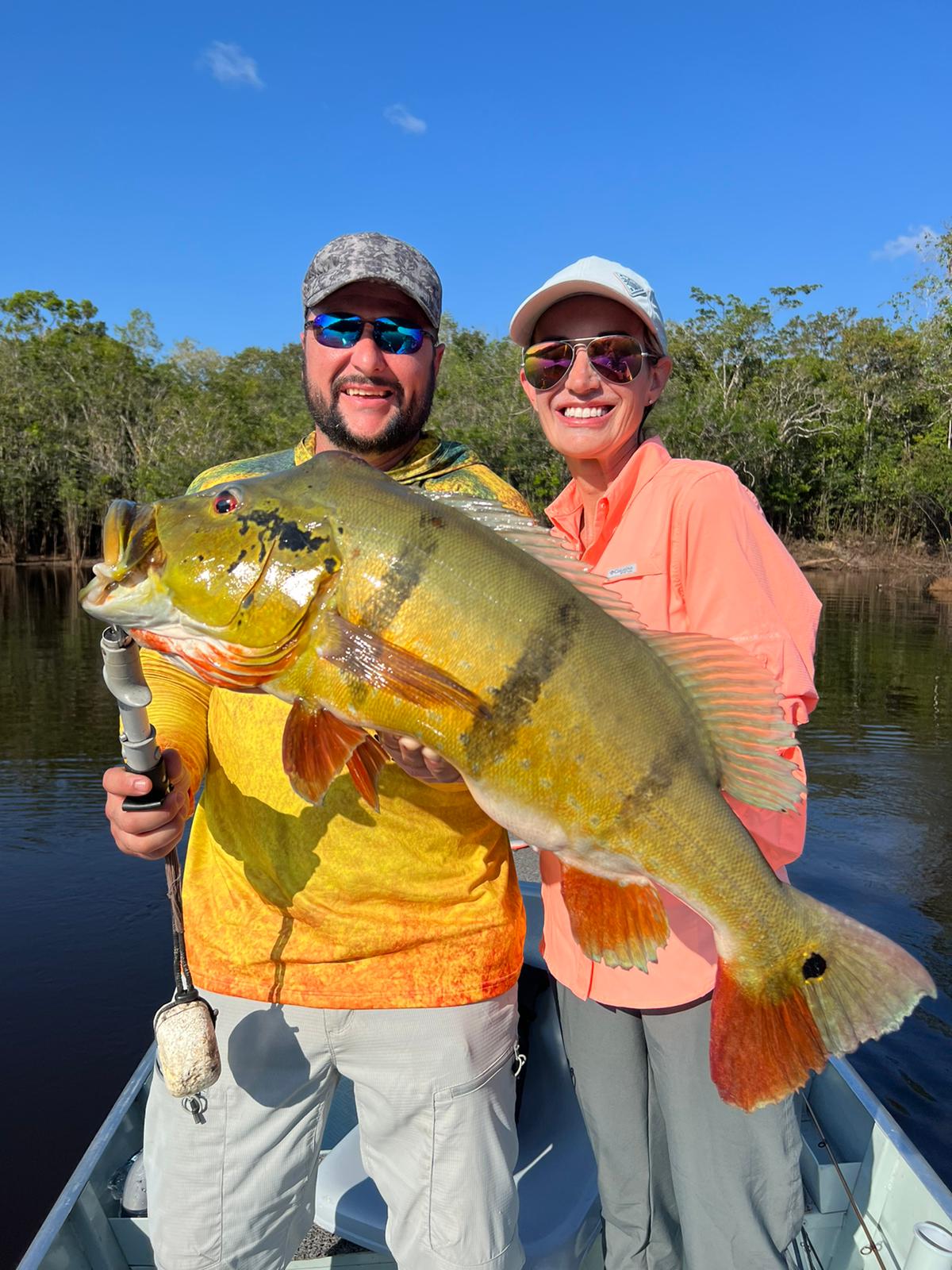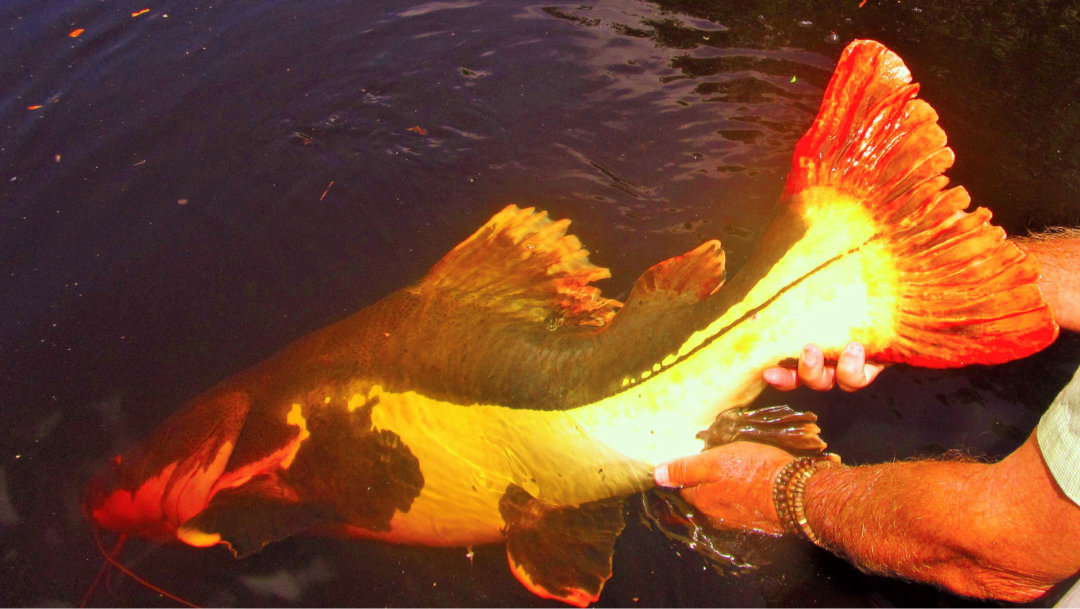 Our Houseboat has been completely refurbished, with four twin cabins, a dining room, a top deck terrace and a kitchen. Each cabin has two bunks and its own private bathroom with showers. There are two cabins on the first deck and  two more on the next deck up.
All cabins and the dining room are fully air-conditioned and we have a open-sided terrace on the second deck.
The beers and other beverages are always ice cold, and sumptuous meals are prepared by our in-house chefs.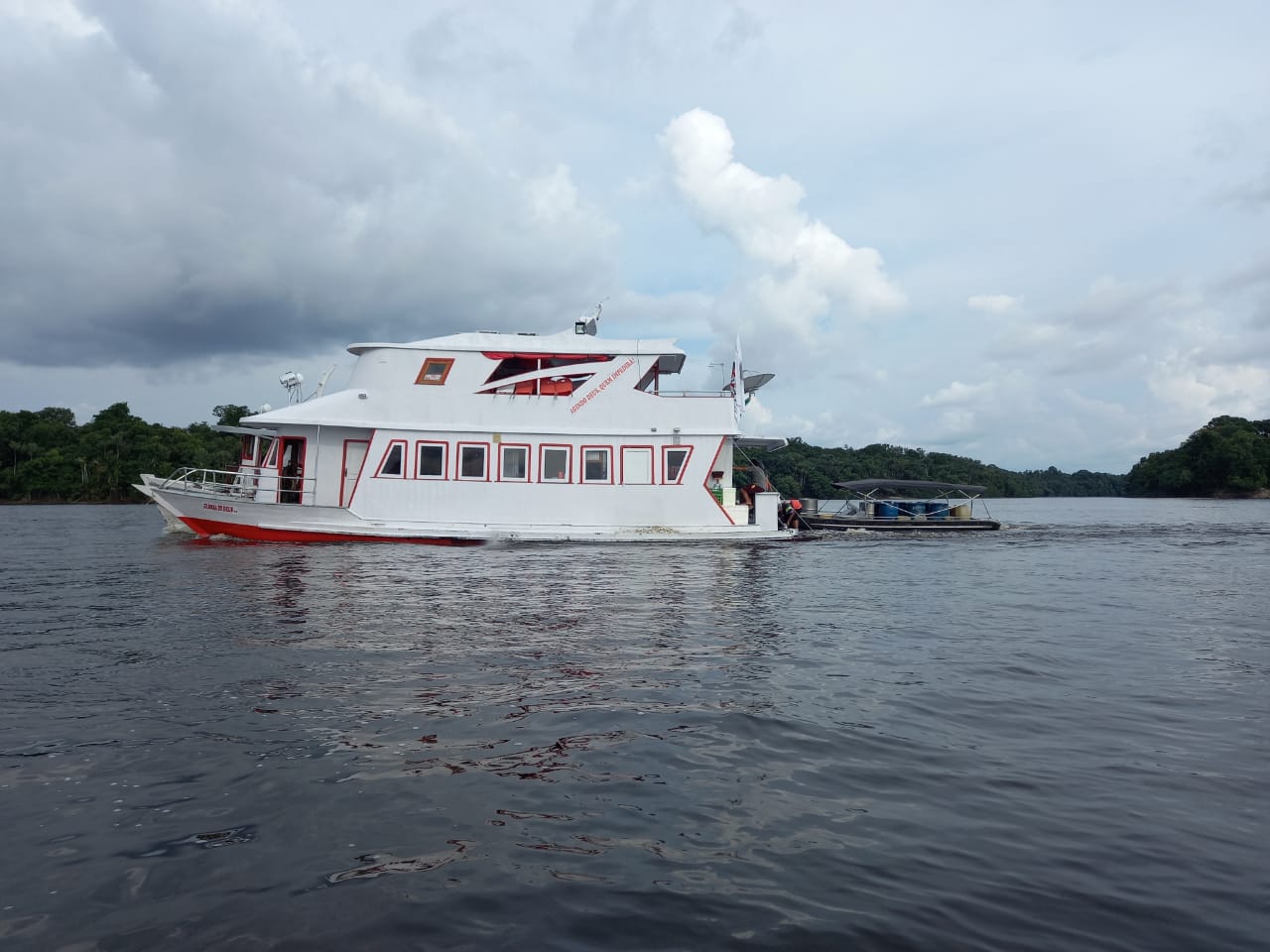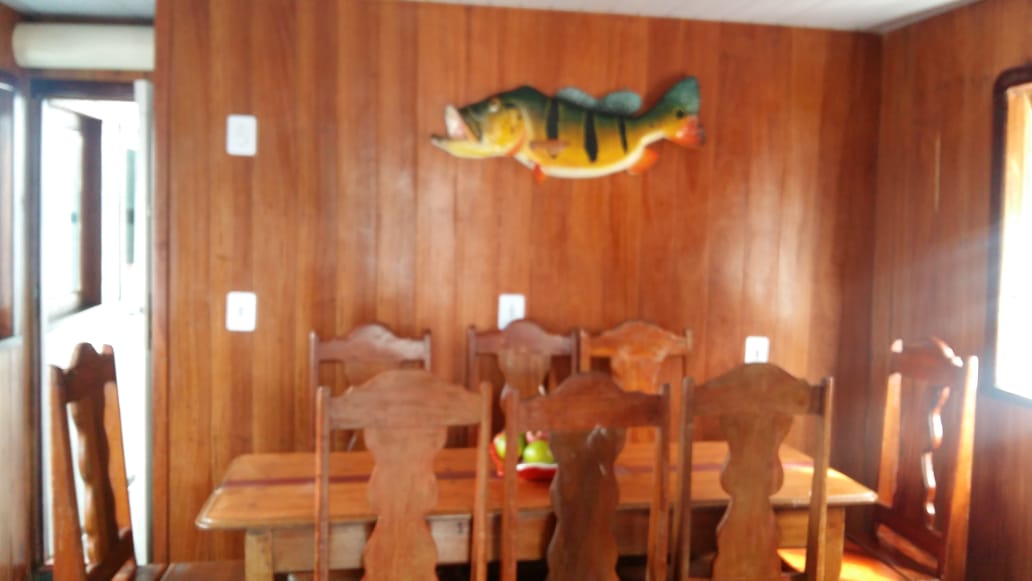 DAY 1: TOUR STARTS – arrival in the city of Manaus and transfer to the hotel and overnight.
DAY 2: Early morning pick up and transfer to airport for flight to Barcelos, check-in at 6:00 am, take off at 7:00 am. Estimated arrival time in Barcelos at 8:20 am, transfer to the houseboat and onwards journey to the first fishing spots at 10:00 am. After lunch ½ day fishing.
DAY 3 – 8: Six full days of guided fishing. At the end of the day 8, return to Barcelos, transfer and overnight at the Amazonita Hotel.
DAY 9: 6:00 am breakfast and 7:00 am transfer to the airport. Check-in and take off at 9:00 am with estimated arrival back in Manaus at 10:20 am. *Onwards journey home or overnight at hotel (Hotel stay not included).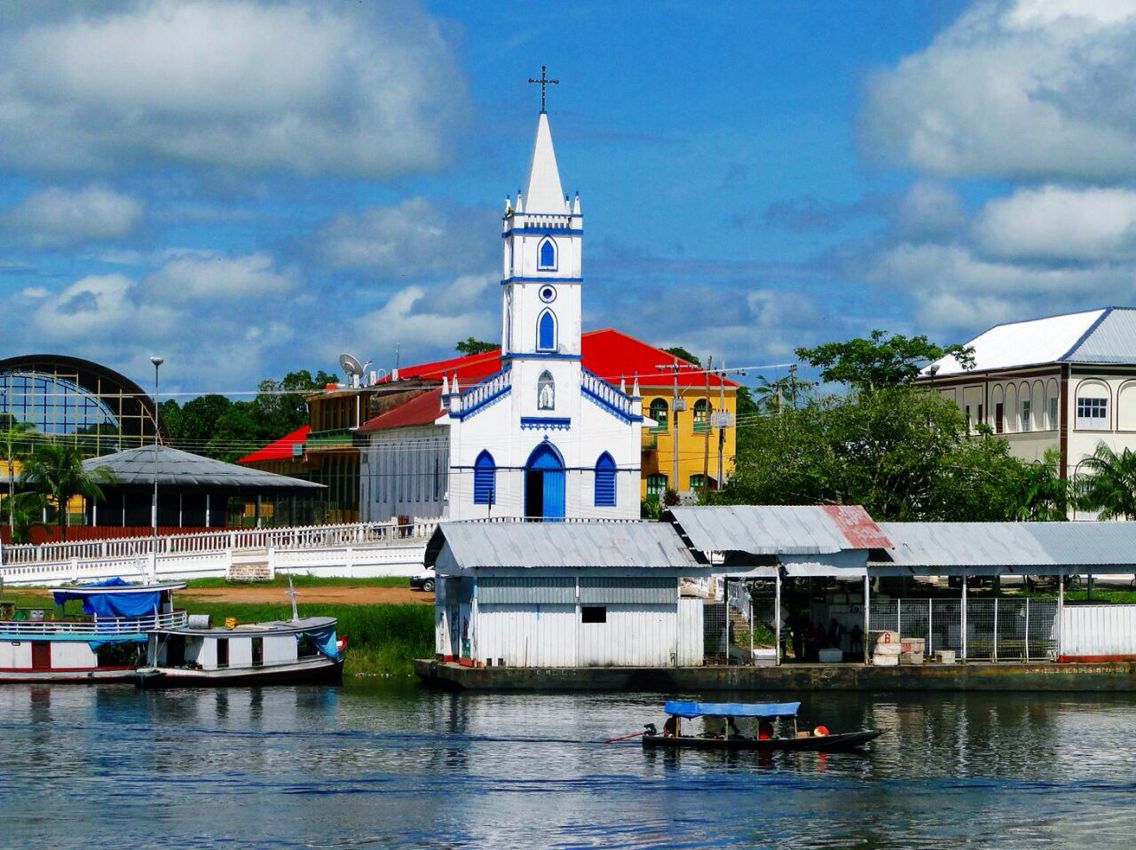 DURATION
9 Day Trip with 6+ Days' Fishing
OCCUPANCY
Cost based on Double Occupancy in cabins and boat
INCLUDED
All transfers on arrival day before trip and overnight at hotel in Manaus, return commercial flight Manaus/Barcelos, all food and beverages while at the Houseboat and while fishing, daily laundry and 6+ days guided fishing.
NOT INCLUDED
International and domestic flights to and from Manaus, meals and drinks while in Manaus, tips, hard liquor, wine, fishing tackle, rods, reels, lures, jigs etc.
TRIP NOTES
Terms and conditions of payments: 50% as deposit on reservation, 50% due 90 days before arrival in Manaus.
A strict 18kgs must be adhered to for all commercial flights to Barcelos return.
A complete and comprehensive list of gear, clothing and tackle suggestions will be provided once reservation and deposit payments have been made.
Tips – we suggest $100pp for your guide and $100pp for the remaining houseboat staff.
Through our travel agent associates, we are able to secure excellent rates for all your international and domestic flights and health/travel insurance that are not included in our packages. Please ask for Details.
Inquire with your doctor for any medications or vaccines needed.
Ready to book your dream fishing trip?