Cabaçeiras Floating Cabins
Floating Cabins Fishing Vacation in Brazil
| | |
| --- | --- |
| Destination | Floating Cabins camp primarily in the Amazon's Northern Rio Negro and the Southern Rio Madeira tributaries |
| Country | Brazil |
| Season | July to March |
| Trip Type | Floating Camp |
| Species | 3 species of Peacock Bass ~ Suribim ~ Traira ~ Bicuda ~ Dogfish ~ Jacunda ~ Catfish ~ Pescada ~ Arauana ~ Piranha |
| Description | A unique floating cabins fishing camp to allow our anglers to fish 'off the beaten track' for amazing Peacock Bass and other species |
| Cost | $4250 per angler (all costs are in US dollars) |
| Duration | 9 days with 6+ days' fishing |
View The Cabaçeiras Video
In 2018, with our Brazilian counter-part, Steve Townson designed this unique floating cabins camp. Even with a shallow-drafted yacht or 'motherboat', there are still limits to where we can travel. We would build our first floating cabins fishing camp with even shallower drafts, which could be put on the move at a minute's notice, through even the hardest-to-reach and far-flung areas of the Amazon and with adventure fishing in mind.
Steve has designed the camp to fit in with all the right specifications. This camp is very comfortable, and each spacious 20ft x 13ft 'cabin' has twin beds and en-suite bathrooms. We also have another much bigger Restaurant and chilling area/cabin. All this put together will be towed behind our support boat like a train.
Each of the Cabaçeiras Cabins (pronounced 'Cabasayrers') will be set apart for privacy and moored up to a sandy beach in the evenings and guests can sit out with their feet in the water with a few 'sundowners' for bragging before dinner is served or even afterwards, under the stars.
There is a fully-stocked bar and fridges in the 26ft x 13ft dining cabin. A generator supplies 110v power to all rooms and an ice machine provide a 24/7 supply for the ice chests and all drinks. The fully-equipped kitchen is on the support boat and is strictly the domain of our resident cook and staff!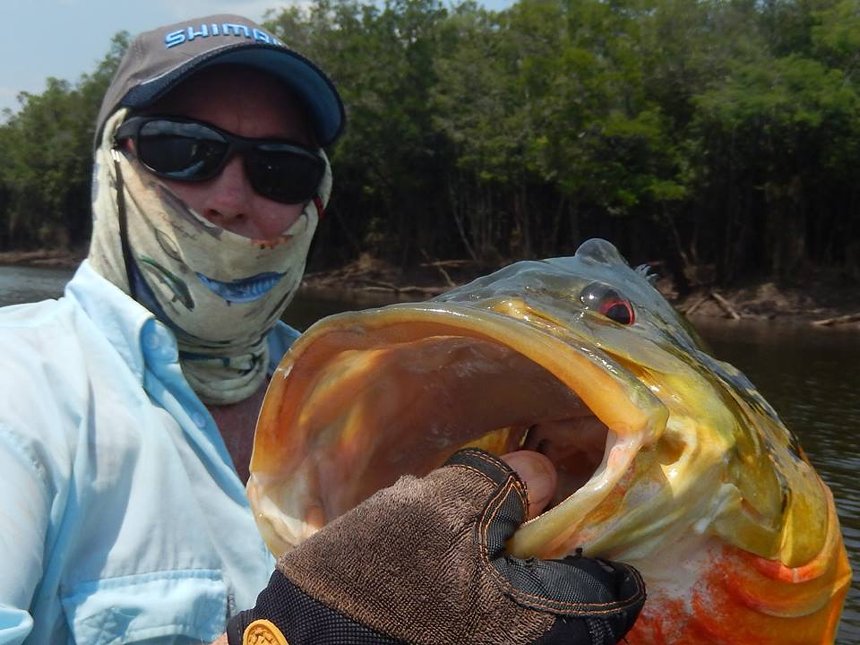 Peacock Bass anglers will tell you that once you have a big Peacock blow up on their surface lure, you'll be hooked for life! There is nothing more exciting than seeing that big fish explode on your Woodchopper, Spook or other surface bait. The strike is nothing less than awe-inspiring. It is loud, aggressive, fast, furious and shocking all in one.
Peacock Bass are structure-loving fish, although spawning fish are often seen with their young dimpling the flat mirror glass surface of a quiet lagoon. Anything passing in its territory is enemy No1 and they will attack it with ferocity like no other fish. If they don't want to eat it, they want to kill it and that is NO exaggeration. Baits have to be worked fast here in the Amazon. Nothing slow swims in the Amazon and stays alive for long.
In the rainy season, the waters rise incredibly. A river that is only 100m wide within its banks in the dry season, may be 20 or more kilometres wide in the rainy season, spread way out into the flooded 'igapo'. Fishing during that time is like finding a needle in a haystack as the predators have followed the baitfish far back into the jungle. Once the rains stop and the levels recede back out of the jungle and into the river banks, this is prime time to catch this magnificent adversary.
Key structures that Peacock Bass love to inhabit are entrances to lagoons, points of beaches and trees, shoulders between a bank and an island, blow-downs and lay-downs, stands of trees and individual trees, sandy beach troughs made by the current, rocks etc.
We have carpeted 16-foot lightweight jungle boats with raised casting decks back and front, electric trolling motors and 25hp outboards. Two anglers will be taken fishing by an experienced and local native guide per boat. We will fish the numerous lagoons (some land-locked and hidden), smaller rivers and tributaries.
A full-spec tackle list and accessories will be provided on reservation, but best surface baits to entice explosive strikes from Giant peacocks are propbaits, walk-the-dog style lures like Spooks and other cigar-shaped baits and Poppers. Best sub-surface lures to use are lead-head jigs, minnow-style baits like Rapala X raps, Yozuri Crystal Minnows, Cotton Cordell or similar. Jigs can catch you over 150 fish a day, and while many will be smaller than when using the larger baits, they also catch a huge amount of big fish too! Fly fishing is a great way to fish in the right conditions, off sandy beaches, in lagoons and in the many river systems. Fly fishermen can catch over 200 Peacocks a day with large, flashy streamer flies.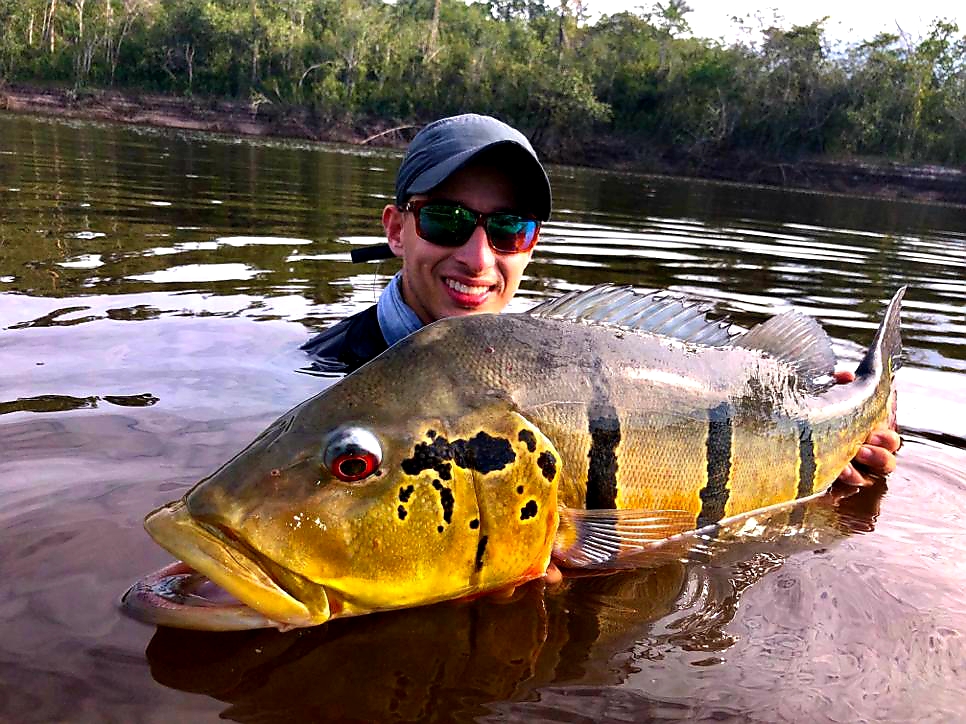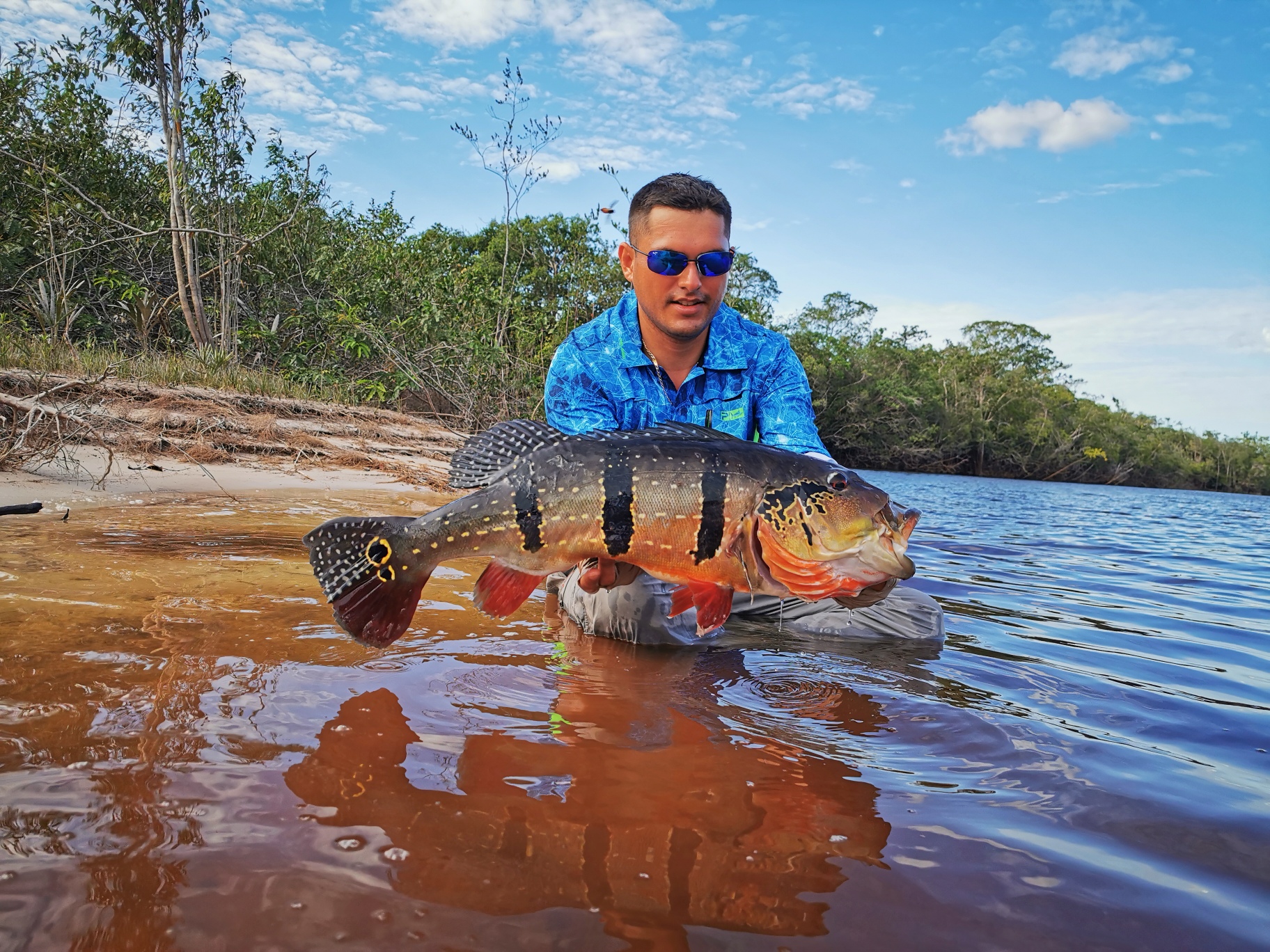 The Floating Cabins
This camp is very comfortable, and each spacious 20ft x 13ft 'Floating Cabin' has twin beds and en-suite bathrooms. There are private bathrooms and air-conditioning throughout. We also have a large restaurant and chilling area/cabin. All this put together will be towed behind our support boat like a train and moored-up at night on a sandy beach.
Meals
We will be literally hundreds of miles away from any modern civilization and yet we still produce excellent meals for our clients. If you have any special requests, please ask away and we will try and accommodate you.
For breakfast there will be an assortment of fresh fruit, juice, cereal, home-baked bread, toast, eggs, bacon, sausage and meat, pastries, cakes, pancakes, jam, hot coffee and tea and any beverage we have on board. Lunch will either be with sandwiches, fruit and cakes in a packed lunch box before setting off fishing in the morning, a shore lunch with freshly-caught Peacock Bass on a home-made green sapling BBQ or back at base. Dinner will be served once all anglers are back from their day's fishing and have washed and showered and are ready to eat. Dinner includes hot meat and fish dishes, vegetables, salads, desserts and fruit, coffee… and the bar is always open!
Drinks are available 24/7 including all soft drinks, bottled water, ice cold beer etc.  A cool-box with your choice of drinks and filled with ice will be taken along each day while fishing. We advise anyone wishing to drink hard liquor to bring their own along with them. On one of the evenings we will have a Luão or beach BBQ dinner with all the staff, guides and guests joining in. This is a great way to get to know everyone involved in our team effort. Table and chairs are laid out on the beach and a big BBQ pit is made in the sand. Fish, sausage, chicken, pork and steak are all cooked and served while you enjoy your evening with all the guides and staff.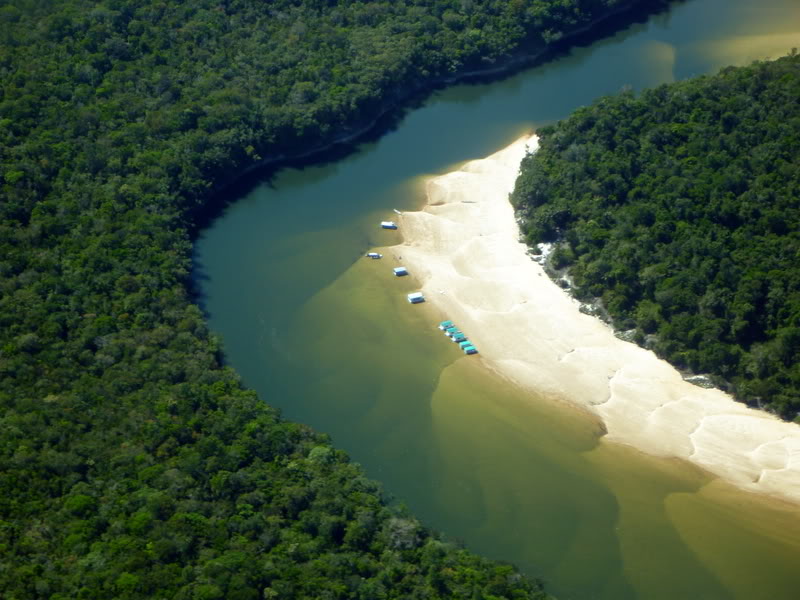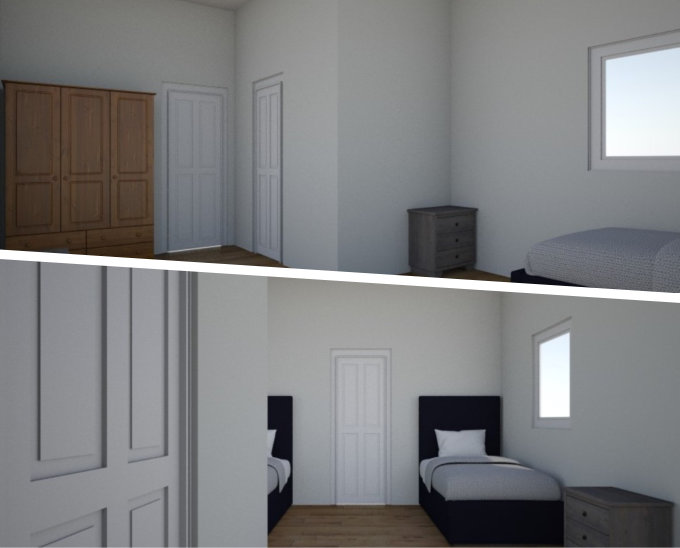 DAY 1: TOUR STARTS: Arrive in Manaus, transfer to the Hotel and overnight.
DAY 2: Early transfer to airport and floatplane to the river or charter plane to a nearby jungle airstrip and onwards to camp. Start fishing after lunch.
DAY 3 – 8: Six days of guided Peacock Bass fishing.
DAY 9: Return by floatplane to Manaus and onwards flight home. TOUR ENDS.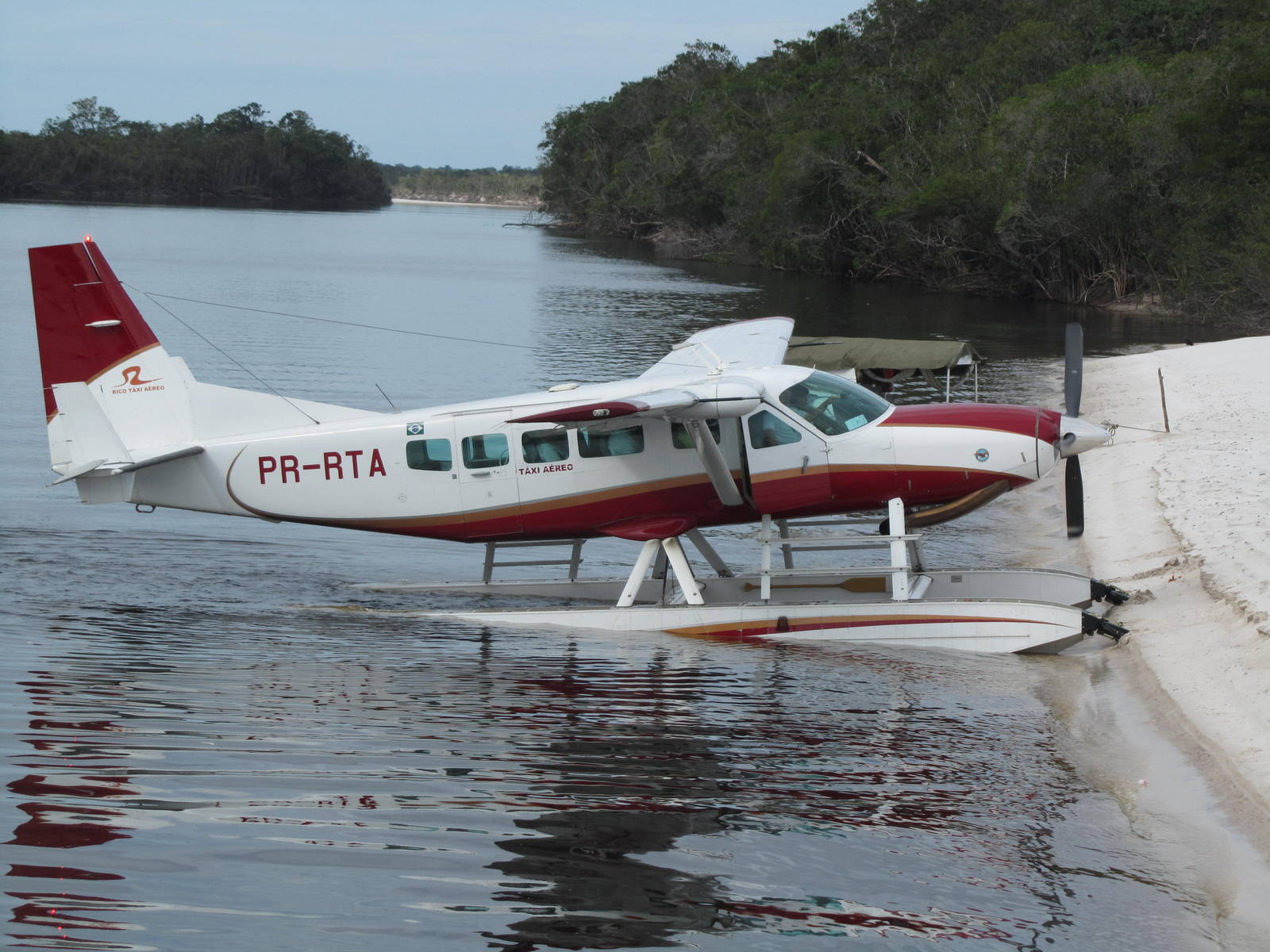 DURATION
9 days with 6+ days' fishing
COST
$4250 per angler (all costs are in US dollars)
OCCUPANCY
Cost based on Double Occupancy
INCLUDED
Transfer and one night on arrival in hotel room in Manaus (based on double occupancy), return floatplane flight or charter flight into jungle airstrip, Manaus/Cabaçeiras with 6+ days fishing, fishing licenses, all accommodation aboard the Cabaçeiras Floating Cabins Camp, all meals, drinks, laundry service etc.
NOT INCLUDED
International and national airfares to Manaus, Brazil; meals and drinks apart from at the Cabaçeiras camp, tips to hotel porters, staff and guides; costs associated with passports and visas*; costs associated with any medical advice and medications for your trip; hotel stays (if necessary) elsewhere and for additional days, insurance.
TRIP NOTES

N.B. Citizens of the USA, Canada, UK, EU, Australia and Japan do NOT need visas for entry into Brazil.
A 50% deposit is required to reserve places when booking. The remaining payment is due 90 days before actual trip starts.
Above prices are stated as a guide and may be subject to currency and seasonal variations. Please enquire for exact prices for the dates you are interested in at time of booking.
Flights to Brazil and onto Manaus are not included, but we can help you arrange them through our travel associates.
A strict 15kg weight allowance will be enforced on each trip for all floatplane and charter flights.
A full tackle guide and gear list will be provided once a deposit payment has been received for reservation of trip.
Tips – we suggest $150pp for your guide and $150pp for the remaining camp staff.
Through our travel agent partners we are able to secure excellent rates for all your international and domestic flights and travel insurance that are not included in our packages. Please ask for Details.
Please check that you have had a Yellow Fever Vaccination and bring your Vaccination Certificate with you in case you are required to show it (Yellow Fever Vaccinations are now valid for life). Also inquire with your doctor for any other medications or vaccines needed.
Ready to book your dream fishing trip?